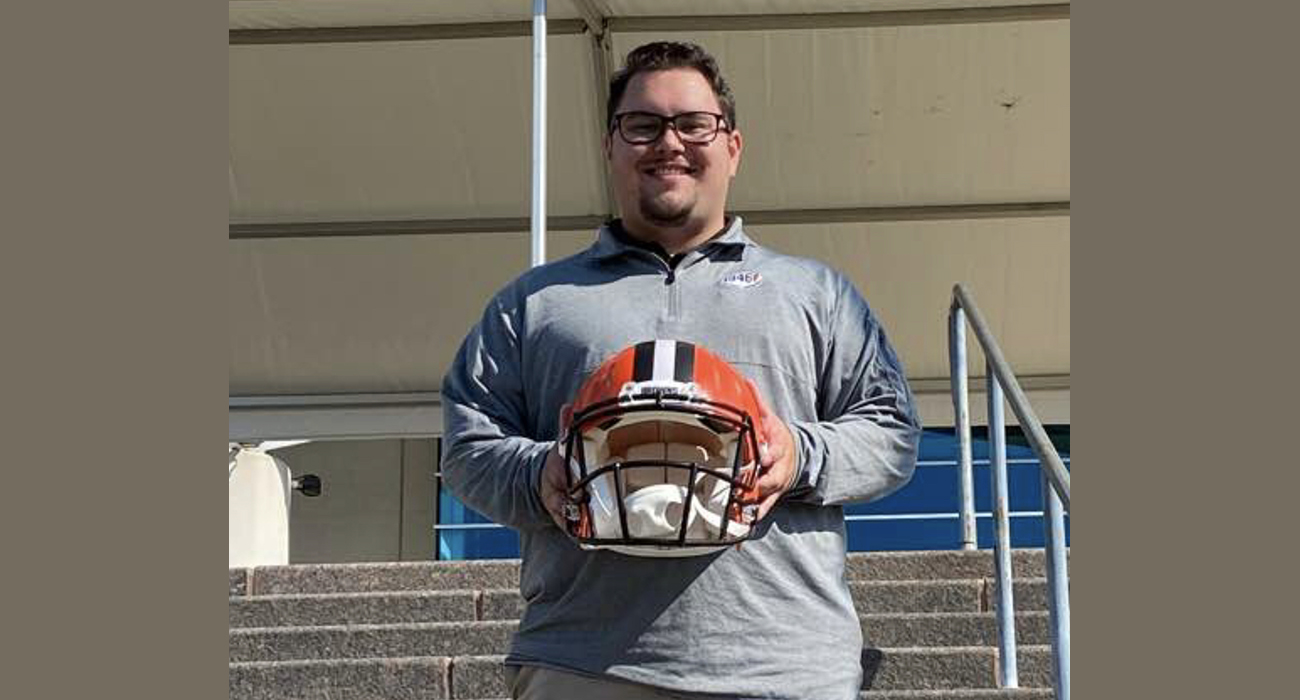 "There is no greater joy than waking up and wanting to go to work," says Xavier Kanis, a 2022 Neumann graduate who is now working for his hometown team, the Cleveland Browns.
A native of Akron, Ohio, Kanis is an inside sales representative for the NFL team, but he sees his job as something far greater than selling tickets and generating revenue. In fact, he imbues his role with a social and psychological significance that seems almost spiritual.
"My goal is to make myself a broker of long-lasting memories, to give people access to bonding with friends and family members at Cleveland Browns games," he preaches. His passion is genuine.
"We sell you a seat and a ticket, but that's not what you take away from the game. Whether the Browns win or lose (and he admits there has been a lot of losing), you walk away with a smile on your face because you got to spend a Sunday afternoon at the stadium, watching your team compete on that football field."
Kanis works with seven others, learning the basics of sports sales and reaching out to fans who attended games but who are not yet season ticket holders. Making approximately 100 calls each day, the staff communicates with fans about plans for the upcoming season.
"I try to build a personal connection to the Cleveland Browns with every fan I call," he states. "It's very natural. I'm talking with fans about their favorite thing, which is also my favorite thing."
Kanis credits Neumann for giving him the skills and experience he needed. He was a CDM major and Sport Management minor. "Everything I've learned the past four years from my professors and mentors at Neumann has just helped me confirm who I am as a person and who I want to be as a business professional."
Dr. Caleb Mezzy's emphasis on informational interviews led directly to an internship for Kanis with the Akron Rubber Ducks, the Double A minor league affiliate of the Cleveland Guardians. As a promotions intern with the team, he learned what went on behind the scenes in professional baseball, interacted with fans and management, and executed on-field entertainment (t-shirt toss, trivia games, pre-game parades, and national anthem performances).
When Kanis was just a sophomore, Sean McDonald gave him the opportunity to host his own weekly radio show on WNUW. On the air, he learned that "the most important thing for sports fans, generation to generation, is storytelling." It's a skill he uses every day in conversation with prospective season ticket holders.
His highest praise is for Dr. Julie Lanzillo and the NUSM 460 capstone course for Sport Management majors. "She got every inch of potential out of me when I was in college," he says. "My peers voted me MVP of the capstone event."
He even recalls meeting Dr. Chris Domes during his NU Knight Day visit to campus. "My family and I were impressed. You don't often get to meet a university president until graduation. It started things off on a great foot."
Kanis heard about Neumann from a family member who used to teach chemistry on campus. She knew that he was interested in sports and radio and told him about the Mullen Communication Center. "I toured the Center, spoke with Sean McDonald and Dr. (Joe) Glass, and felt like I was welcome, like I belonged there," he recalls.
"Going to Neumann, which felt like a home away from home, and then coming back to where I grew up in Akron to work for the hometown team … there is no better feeling in the world."