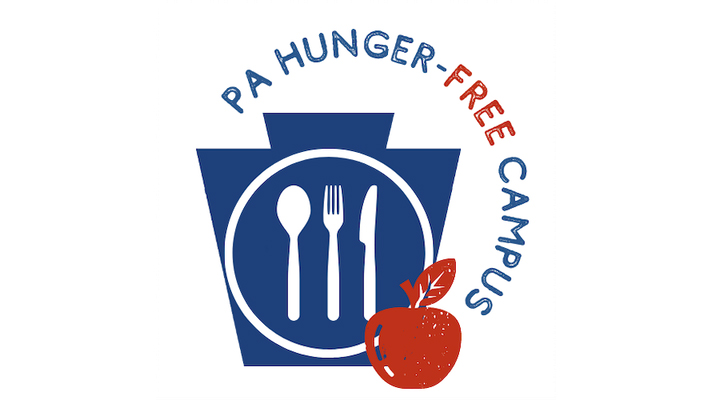 Governor Wolf's administration recently introduced an initiative to end hunger on college campuses by helping students access free, nutritious food options. Rina Keller, the co-chair of the Knights' Pantry, applied for Neumann University to be designated a Hunger-Free Campus, and the application was approved.
This designation will allow NU to join other institutions of higher education that are taking steps to address student hunger. The state has committed $1 million to the Hunger-Free Campus grant program, which will help schools enhance food pantries, increase Supplemental Nutrition Assistance Program (SNAP) outreach, and improve data gathering.
According to the Governor's office, many college students have relied on free or reduced-priced meals throughout their education. Those programs do not exist for college students, even though their food challenges in primary/secondary school can follow them into the next phase of their lives and become more challenging as they juggle more responsibilities.
"We know that students need access to healthy food to stay focused, learn, grow, and thrive. And yet, many post-secondary students face financial barriers to filling their most basic needs," said PA Acting Secretary of Education Eric Hagarty. "The Hunger-Free Campus Initiative empowers Pennsylvania's colleges and universities to combat hunger on their campuses and provide the resources that students need to continue their education and go on to obtain family-sustaining, meaningful careers."
Keller learned of the opportunity to apply for NU to become a Hunger-Free Campus from Sharing Excess. This non-profit organization uses food surplus to solve food scarcity and partners with the university. She quickly applied and heard back from the state within one week.
"I'm looking forward to two things, the potential collaboration with other schools who have these kinds of resource pantries and the potential for grant money," Keller said. "We have big plans. So, to be able to get some money and have the ability to ensure that the pantry is stocked at all times will be wonderful."
According to Keller, Neumann University has partnered with Main Line Health, specifically Riddle Hospital, for a fundraising event hosted by the hospital's Diversity, Respect, Equity, and Inclusion Council. All items collected through this event will be donated to the Knights' Pantry.
The Knights' Pantry is located on the fifth floor of the RAB. Donations of non-perishable and perishable food (apples and bananas), toiletries, and hygiene items are needed. Keller co-chairs the pantry with Megan Camp, and graduate assistant Olivia Fritz is also helping with the pantry. The team recently added the Knights' Closet, which offers free business attire to NU students. Hours for the pantry and the closet can be found on the Knights' Pantry website.
The mission of the Knights' Pantry is to provide resources to alleviate food insecurity, improve health and wellbeing, ensure a reduction in food waste, and promote sustainability on campus.  All Neumann students (graduate and undergraduate) with a current ID are eligible to use the pantry. Neumann staff and faculty in need are asked to contact Rina Keller or Megan Camp directly.