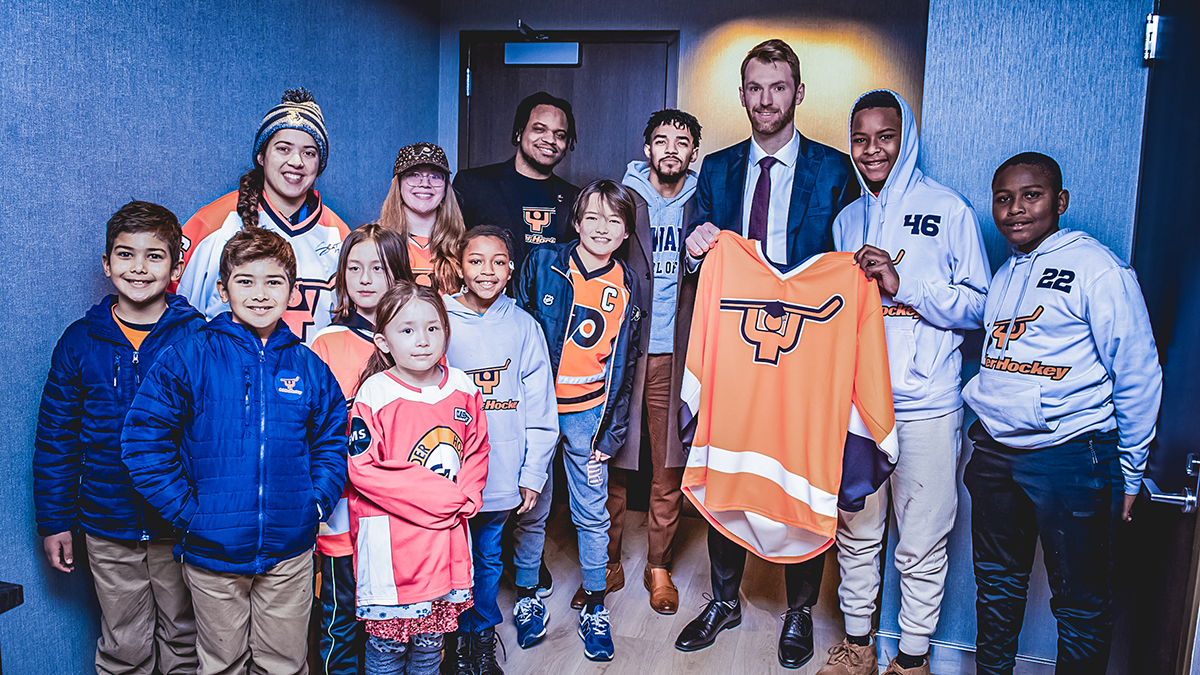 Ice hockey players Jasmine Martinez and Victoria Maloney represented Neumann University and the Ed Snider Youth Hockey & Education organization quite well during the January 8 Philadelphia Flyers game at the Wells Fargo Center. The duo was invited to bang the drum to the tune of the Flyers' fight song at the game's opening.
Before the puck drops, the Flyers organization selects various people to bang a large drum which is broadcast live on the rink's jumbovision. The announcer shouts, "Let's go Flyers," and the drummers follow with five drumbeats. Martinez, who sported a NU hat, and Maloney beat the drum with tremendous enthusiasm, and the fans went wild.
"We were banging the drum to get the fans hyped up at the beginning of the game," Martinez said. "I banged it so hard that my arm was vibrating afterward."
Maloney didn't get a chance to see herself on the jumbovision because she was concentrating on the mission at hand.
"I was very nervous about messing up, so I was focusing on making sure I banged the drum right," she said.
In addition to banging the drum and playing hockey together, Martinez and Maloney have much in common. They are both Snider Hockey Goals and Assists scholarship recipients, graduated from Neumann in December, are now enrolled in master's programs at NU, and work as graduate assistants. These two manage daily schedules that need multiple planning devices to keep them in check.
Martinez graduated with a Sport Management degree and is now pursuing her master's in Sport Business. She is a GA in the University Advancement office. But wait, there's more. She is also working with the Flyers as a game day intern, playing for the NU women's ice hockey team, and is still actively involved with Snider Hockey.
Maloney is right alongside her friend when it comes to an overflowing plate. She graduated with a Business Administration degree and an Accounting minor and is now getting her master's in Sports Business. She works as a GA in the library and interns at Exelon in Delaware. She was recently accepted into the company's three-year management rotation program, which she will start after she completes her master's degree.
Maloney is still involved with Snider Hockey and works as a peer support and life skills coach.
Needless to say, these two stars are diehard Flyers fans.