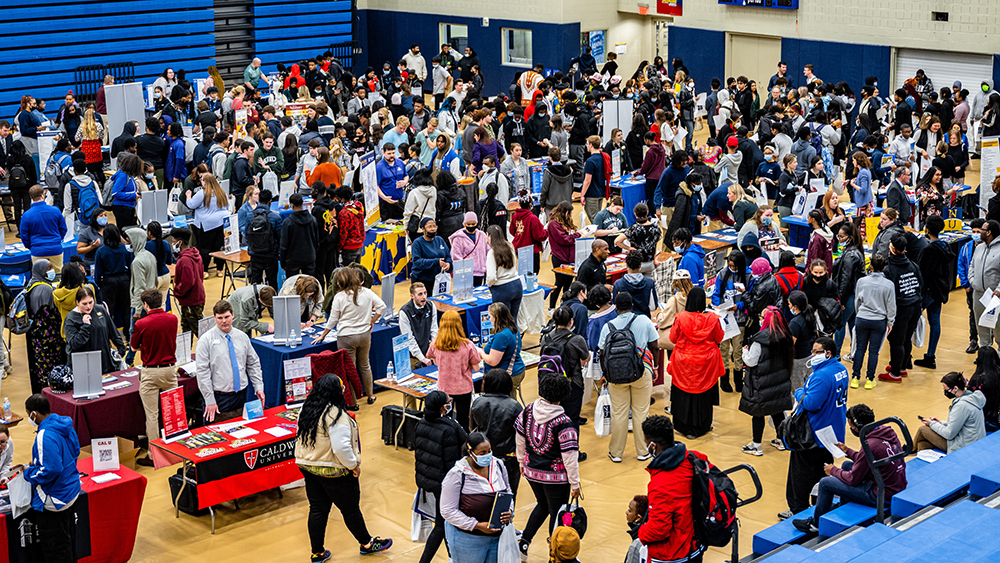 Last year's college fair was so successful that the Neumann University Admissions Office is doing it all again. This year's college fair is on March 30 in the Mirenda Center.
The college fair is open to high school students and their families. The morning session runs from 9:00 – 11:30 a.m., and the evening session from 6:30 – 8:00 p.m.
Christine Gibble, associate director of undergraduate admissions, is organizing the college fair again this year with the support of the admissions staff. As of March 9, 20 high schools had registered, and Gibble expects 900 high school students will attend the morning session. There are 71 colleges and universities registered too.
The college fair will be utilizing an admissions department resource called StriveScan. This technology allows colleges and universities to immediately collect student data by scanning a barcode students receive on their phones when signing up for StriveScan. The app takes approximately two minutes to download and is free for students.
"This really streamlines the process of collecting inquiries for us which is really helpful," Gibble said. "It's so good because you upload it directly to your CRM. Ours is Slate. You don't have to guess the handwriting for a student which is always helpful."
More than 1,000 visitors attended last year's college fair, and Gibble hopes to top that number this year. Having a year of experience planning a college fair has benefited Gibble and her staff. The admissions counselors have been able to market the fair to high school counselors sooner than last year.
According to Gibble, admissions counselors from other institutions who attended last year's event have been eager to sign up this year due to the success of the 2022 fair.
Gibble encourages faculty and staff members who have children in high school to attend the event. "It's a great opportunity; not only is Neumann going to be represented, but there's a plethora of other schools," she said.
Faculty and staff are welcome to stop by the fair, mingle with guests, and support the college fair by displaying a lawn sign. Order a lawn sign, and it will be delivered to your office.