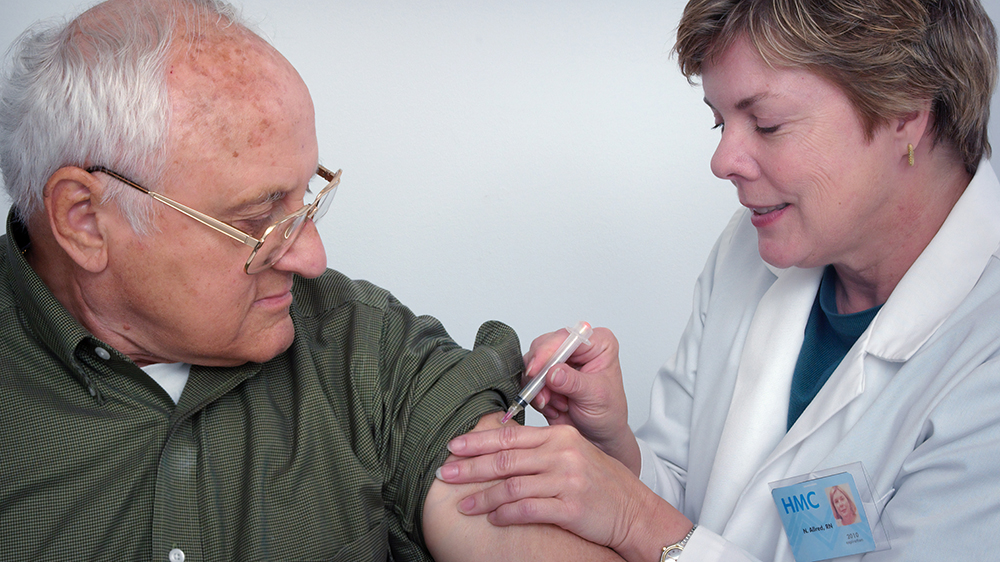 The demand for at-home health care has ramped up during the pandemic. However, there was also a national uptick in the popularity of this type of care in the years leading up to COVID-19. To address this need, Neumann University now offers the only nursing courses in the nation that focus specifically on home health care.
In January, Neumann launched two innovative nursing initiatives. The first was a pilot three-credit online home health care course titled "Vistas in Home Health Nursing Practice." In addition to NU students, this course is also available to registered Bayada Home Health Care nurses and nurses from New Jersey's Visiting Nurse Association.
The content of this course was designed to give nursing students and nurses practicing in other clinical areas background information and insights into the myriad of evolving career opportunities for nursing professionals.
The class is taught by adjunct professor Dr. Faye Meloy, a new addition to the NU nursing faculty. Dr. Meloy has more than 30 years of experience in nursing education. She holds a BSN from Thomas Jefferson University, MSN from the University of Pennsylvania, MBA in Health and Medical Services Administration from Widener University, and a PhD in Educational Leadership and Learning Technologies from Drexel University.
The course was developed in partnership with Mark Baiada, chairman of Bayada Home Health Care, whose business has provided home health care to patients worldwide since the 1970s. In discussions with Neumann University officials, Baiada expressed an interest in nursing students receiving an education about the entire field of home health care and how it is expanding.
"Vistas in Home Health Nursing is an excellent introduction to the globally expanding field of home health. I am excited to partner with Neumann University to offer the only college credit course in the world for home health nursing. The need for home health nurses is huge and growing, and our nursing schools need to educate nurses to meet the need. Neumann University is leading the way," Baiada said.
According to Dr. Meloy, the three-credit course has a mix of students, including NU nursing students and practicing home health care nurses.
"I think it has been a very rich experience for both groups of course participants because they're able to share examples of real-world experiences in-home care combined with the fresh new perspectives of student nurses. The interactions and insight have been extremely positive for all," she said.
The second nursing initiative, also launched this past January, is the Vistas in Home Care Continuing Education Series. This online program contains modules developed for licensed nurses who can earn up to 15 continuing education credits if they complete all five modules by the end of June.
These modules contain much of the curriculum that is in the three-credit course, but the format has been adapted to meet the needs of practicing nurses. The course content was developed by Dr. Gloria Donnelly, former dean of the Drexel University College of Nursing, and Dr. Meloy, gathering input from home health nurses, nurse educators, and administrators.
Students explore the history of home health nursing, types of home health care services, patient outcomes, home health nursing as a career option, essential skills needed in this area of nursing, and the future of healthcare delivery which increasingly is shifting from a focus on acute care to community-based delivery options such as the "hospital at home" movement.
"Terri Pietsch, the dean of NU's nursing program, has been really supportive in helping me get this off the ground and gave me some really good insights about teaching at Neumann," Dr. Meloy said.
The Vistas Continuing Education series is also a pilot program offered free of charge to Neumann University nursing alumni, employees of Bayada Home Health Care, and New Jersey's Visiting Nurse Association.
"The hope is that this provides insight and ignites some interest in nursing and home care. The future is almost limitless. So far, the feedback from students, both in the CE modules and the course, has been favorable," Dr. Meloy explained.
Dr. Meloy attributes the expansion of in-home care to numerous factors, including the natural evolution of health care delivery and advances in technology and medicine. "We are seeing healthcare delivery come full circle. Home care has proven to be cost-effective, with excellent outcomes for patients and their families alike. Although the recent experiences dealing with COVID have provided major challenges for all involved, it has escalated the development and acceptance of new technologies that will continue to expand home care services now and, in the future."
"Home Care Nursing is clearly not for everyone, but this area of specialty nursing practice will continue to evolve and create significantly diverse career opportunities for the foreseeable future. Hopefully, these educational offerings will shed light on the "potential and possibilities" this rapidly expanding nursing field has to offer," said Dr. Meloy.