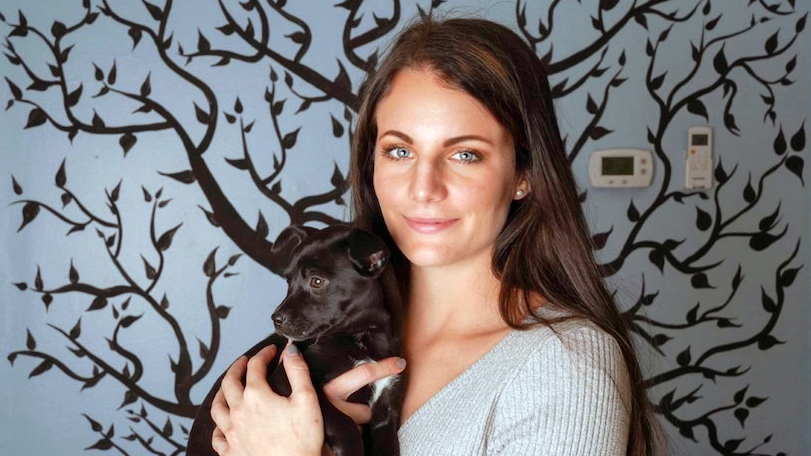 Lisa Golob, a senior Health Sciences major, was recognized by NBC10 with a PAWSitively Good Award in conjunction with last year's Clear The Shelters campaign. Golob lives in Linwood and volunteers at Rags 2 Riches Animal Rescue. She was nominated by an adopter who felt she went above and beyond caring for the dogs at the rescue.
The PAWSitively Good Award recognizes local heroes who do whatever it takes to care for rescue animals and find them homes. It was established to support the Clear The Shelters campaign that offers free adoptions at numerous shelters throughout the Philadelphia region.
Golob is originally from Austria and came to Neumann University by way of an au pair job she took after graduating from high school. Part of her au pair program required Golob to take college courses. She initially attended Delaware County Community College and received her associate degree. She came to NU for nursing but found Health Sciences to be a better fit.
Having grown up on a farm, Golob has always had animals in her life. She was a competitive equestrian and always had a dog by her side. Her first host family in the United States had members with pet allergies and, therefore, could not have pets. Golob tremendously missed being around animals.
When she moved into her apartment, she was not permitted to have any pets. In order to get her "pet fix," she decided to volunteer at Rags 2 Riches.
"I looked into some volunteering options, and the rescue was the first one that popped up. I walked in, and I never left. I was there every single day that first summer," she said. "I just love being around the dogs."
As with most shelters, Rags 2 Riches runs on a very tight budget. Volunteers jump in and help wherever needed, and no one does this better than Golob.
"They call me the manager because I do a little bit of everything. I do the paperwork, walk the dogs, clean the cages, help with shots, microchips, and adoptions. My favorite part is taking the adoption picture, and it just always makes me so happy," she said.
The rescue has a team of volunteers who transport the dogs from the south. Golob has driven several times to Alabama to pick up rescue dogs.
"Most of the dogs we're getting right now are from the southern states because people there don't believe in spay and neutering, so they have all those extra puppies that get dumped. It's horrible," she explained.
In addition to all her duties at the shelter, Golob fosters the female dogs who come with puppies too young to leave their mother.
"The adult dogs, especially the mommas that I've fostered, have a special place in my heart, and I always tear up when they leave," Golob said. ​​​​​​​
Golob will be graduating next May. She has specialized in the Strength and Conditioning and Exercise Physiology tracks within the Health Sciences major. Her career goal is to land a job as an athletic trainer with a college sports team. A safe bet would be that wherever Golob lands, she will have a house filled with pets – especially dogs.
Rags 2 Riches is located at 64 Rosalie Lane in Aston. For more information about adopting a dog, visit the rescue's website.