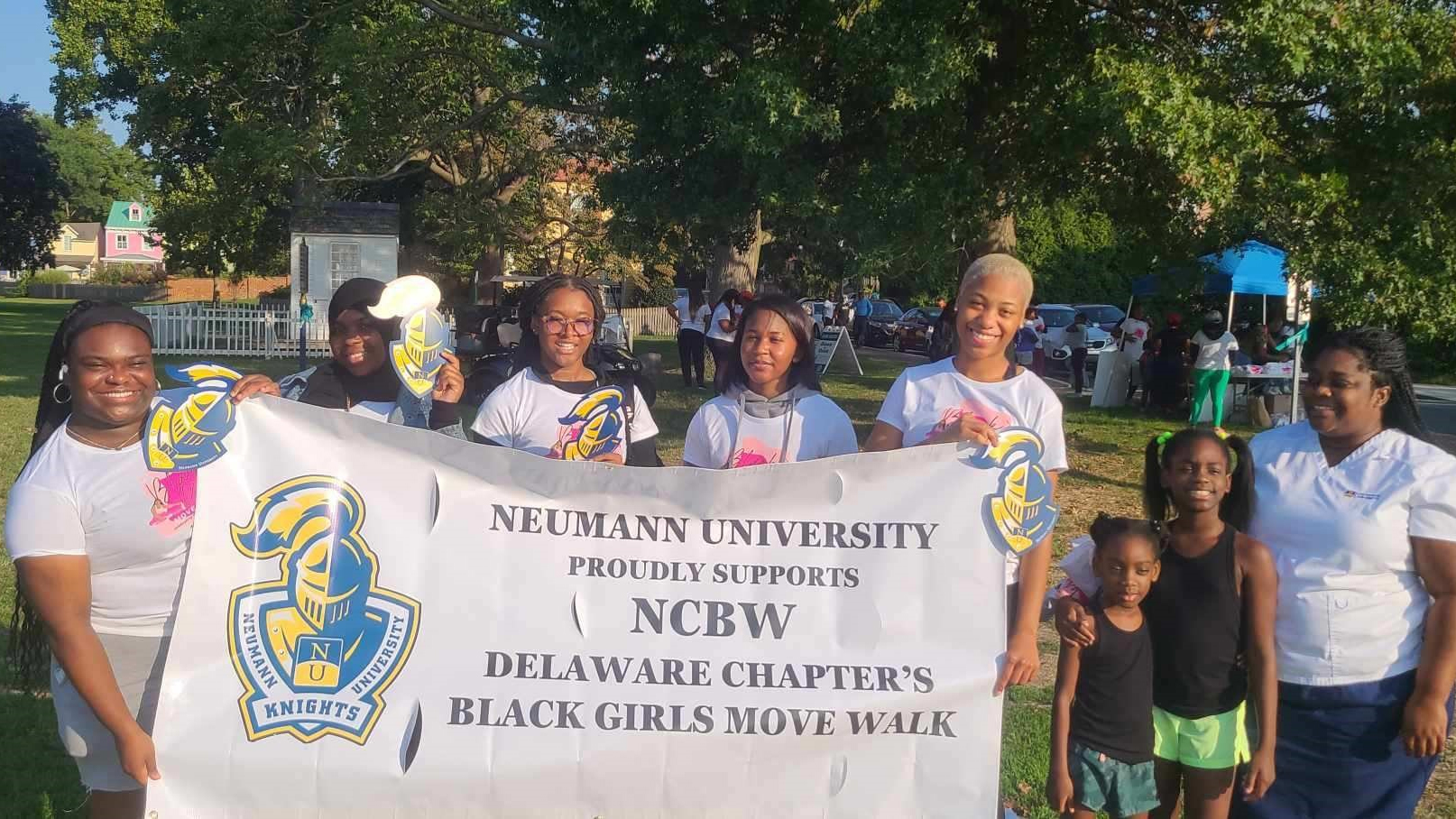 A group representing Neumann University participated in the Black Girls Move Walk on September 17, 2022, along the waterfront in New Castle, Delaware. The walk's purpose was to bring awareness of the importance of exercise to Black females.
The National Coalition of 100 Black Women, Inc. Delaware Chapter sponsored the walk. It took place in picturesque Battery Park along the Delaware River. The day consisted of a walk, yoga, dancing, and speakers.
Dr. Michelle Santana, chief diversity officer, organized the group of Neumann students who participated in the event. She is a member of the NCBW Delaware Chapter and also chairs the 100 Bridges Group Mentoring Program for the chapter, focusing on health, finances, and safety. According to Santana, the walk was developed to address the desire of Black girls to move more and exercise.
Santana explained the importance of having NU students at the walk. She said the students who attended the walk provided hope to others and carried the university's RISES values with them.
"Having NU Black female students was meant to inspire Black girls to know that college is possible for them. The NU RISES values are embedded in the students, and this was apparent when they participated in the walk," she said.
Ashely Beasley '22, a graduate student in the clinical and mental health counseling program, attended the walk and experienced a sense of serenity from the moment she stepped out of the van. Being along the water's edge, connecting with nature, and meeting other women like her, eased her mind.
"Everything that was on my mind that morning just disappeared. We were walking, surrounded by water, and there were people doing yoga, dancing, and it was like we were all friends," she said.
Beasley, who is starting her weight loss journey, felt encouraged and empowered to complete her goals by being around other Black women on the same path. "It brought to my attention that it doesn't matter how little or how small you exercise; it all contributes to better health."
Aijea Fowler, a senior psychology major and president of the Black Student Union, also attended the walk. She felt an instant connection with the other women at the walk.
"I enjoyed being around other women who looked like me and having conversations with them. The speakers spoke to us about health issues and things happening in the African American community, specifically women's issues," she said.
The walk is one of many community events Santana plans to introduce to the NU community to foster inclusion across all races and genders.
"My takeaway from the event is that the great outpouring of over 250 participants indicates people want to answer the call of the Black girls in Delaware. It also reinforced our values as a university in the Franciscan tradition of service and stewardship," Santana explained.
Nursing professors Marie Ranselle and Ann Zahner, along with Chuck Sack, director of athletics and recreation, also attended the walk.