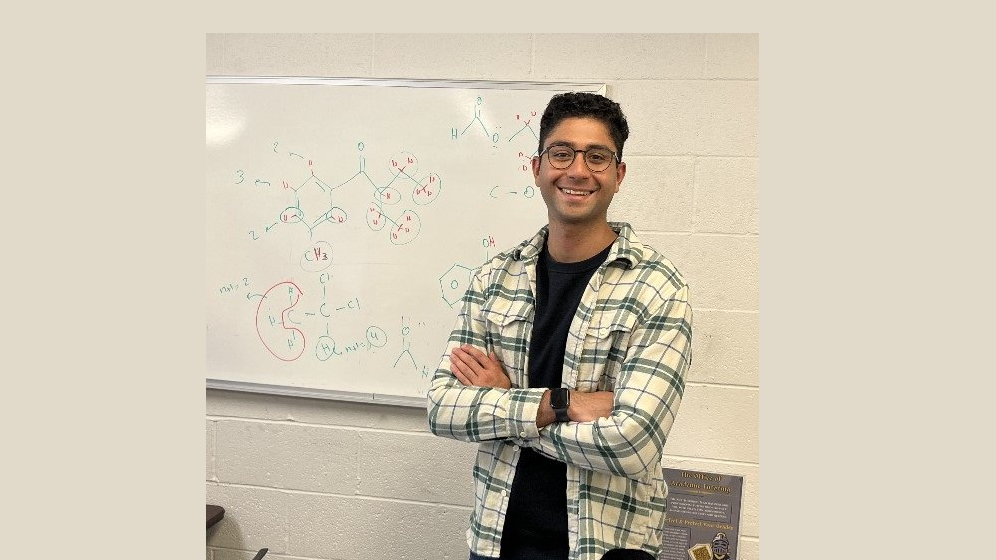 Khashayar (Khash) Eshaghi was born in Tehran and grew up witnessing oppression from his country's government. He sought a life with more freedom and left Iran, traveling alone to his uncle in Florida.
"It was my dream as a kid to come here. The main reason that I sought asylum was because of my non-conforming views, especially when it came to the political and religious environment in Iran. It's basically a very extreme and radical Islamic government, and I didn't see a future there for myself," Eshaghi explained.
One of his uncle's good friends was Dr. Shahmaei, with whom he went to middle school in Iran. It was Dr. Shahmaei who connected Eshaghi with Neumann University.
"He introduced me to Neumann because I wanted to pursue nursing. He really advocated for Neumann's program, and I got in touch with the admissions here," Eshaghi said.
After graduating from high school in Florida, Eshaghi moved to Pennsylvania and enrolled at NU.
"When I applied to Neumann, my parents still weren't here, and I lived in the dorms. Neumann gave me a place to live when I had nowhere else to go," he said.
Eshaghi's love for medical science expanded while he was studying nursing. He was always interested in science and medicine. Nursing especially appealed to him because he wanted hands-on experience caring for patients. His ultimate dream was to become a doctor, but he dismissed that idea due to the cost of medical school.
"I always knew I wanted to go to med school, but I wasn't sure I could continue my education here past four years (due to student visa restrictions). I wasn't even sure I could afford it," he said.
During his sophomore year, Eshaghi's immigration case was moving along, and he realized that he could stay in the U.S. At the same time, his parents were leaving Iran permanently. He saw his opportunity to attend med school but needed more prerequisite classes. He transferred to the University of the Sciences and changed his major to Neuroscience in his senior year to fast-track his education. He graduated in 2022.
Even though he was not a student at NU anymore, the university came to Eshaghi's rescue once again after he transferred. According to Eshaghi, there are limitations for international students when it comes to employment. He needed some source of income and talked to Theresa Albany-Huke, the former director of the Academic Resource Center. She hired him to become a math and science tutor, a job he still holds today, working for Katie Callahan.
"Not only has Khash tutored in my office, but he also stepped up this fall and worked as the interim coordinator of academic services when I needed assistance running the tutoring program after Maria Franckiewicz resigned. Khash stepped up immediately and offered his service and assistance to help me keep my office running efficiently until I could hire another full-time coordinator. He is outstanding in every way. He is compassionate, intelligent, hardworking, and dedicated, and he exhibits Franciscan values in all he is and all he does," Callahan said.
When Eshaghi reflects on his journey that began as a teenager, he is filled with awe. The people that he met and supported him made his dream come true. Many of those people are from the Neumann University community – a place he forever holds dear.
"I have friends in med school, and they're constantly being questioned by the government, and they have been arrested in the past year during the protests. So, looking back, I never thought I would be where I am today – getting into Penn, one of the most prestigious medical schools in the world," said Eshaghi. "I have many friends in Iran who were smarter, more passionate, and more deserving than me. And when I see where they are now, it's sad and very heartbreaking."
Eshaghi's long-term goals include working for international organizations such as the American Red Cross or Doctors Without Borders. He will start at Penn this fall and is classified as a permanent resident. Eshaghi will become a U.S. citizen in 2025.