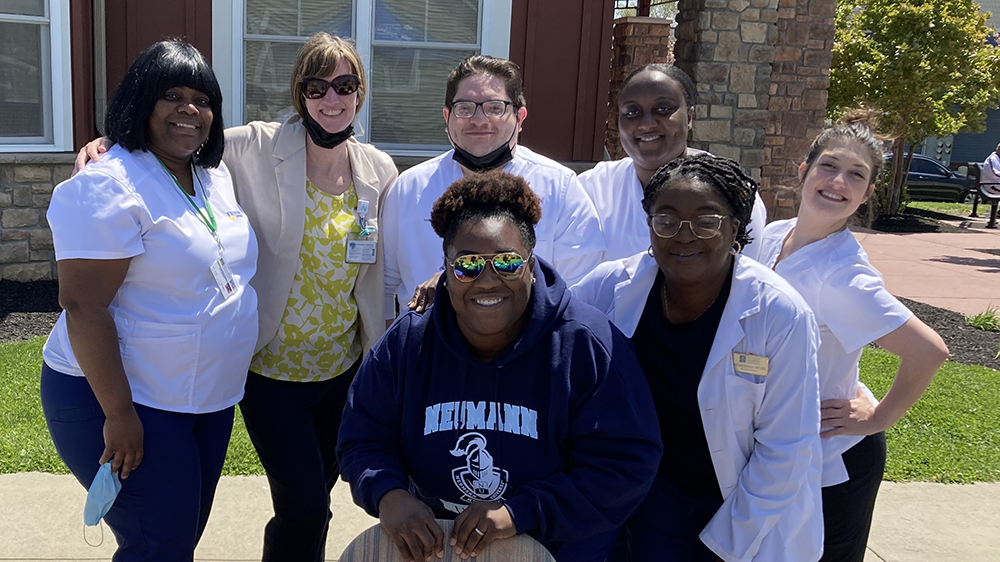 On April 30, Neumann University nursing students volunteered at a community outreach program aimed at reducing the number of limb amputations due to complications caused by diabetes. The students helped people complete questionnaires and educated them about the risks associated with poor healthcare at a health fair in Chester, Pennsylvania.
The non-profit organization Save Your Soles (SYS) reached out to nursing professor Ann Zahner asking for help from the students for this project.
SYS is a grassroots campaign focused on eliminating amputation for those suffering from diabetes in the Delaware Valley. Through research, SYS has identified the community with the highest risk – black males. The premise that SYS operates under is that the number of amputations in the greater Philadelphia area can be reduced through proper patient care and education.
Dr. Ron Renzi, a podiatrist from Abington, Pennsylvania, started SYS with two other doctors in 2012. This was the first time the organization partnered with Neumann University, and he was delighted with the collaboration. Renzi's goal is to complete 1,000 questionnaires by the fall. He has requested help from the NU nursing students for other outreach programs planned in the next few months.
"Dr. Renzi told me about this program, and it sounded like a great fit. We started meeting with him, and he began educating the students on what to say and how to answer people's questions," Zahner explained.
The questionnaires were developed to gauge awareness surrounding diabetes, feet issues, and leg amputations. Respondents were asked how aware they were that men of color are more likely to get an amputation than men who are not of color and if they knew the connection between diabetes and leg/foot amputations.
"We were there to get information and give information," said Dorcia Stringfield, a junior nursing major. Studies show that African American males don't pay much attention to their health as other groups do, so "we collected data to see the disparity regarding diabetic health and how it relates to feet and amputation."
In addition to helping people complete the questionnaires, Renzi plans on using the NU students to help him analyze the data collected.
"I think it is a good project for the students, and there's a lot involved, like learning about diabetes and interacting with vascular surgeons who are helping with the project," Renzi said.
Nursing professors Dr. Michelle Santana and Marie Ranselle also accompanied five junior and senior students to the health fair. The outreach was offered to students through Neumann's Social Justice Committee.
Nursing major Chance Levy was aware of the high risks of amputation due to diabetes due to her community health rotation at the Delaware County prison. However, she realized the need to educate the community on this issue.
"I realized that people didn't understand that complications can lead to amputation. Once we explained these risks to them, everyone was willing to participate in filling out the questionnaires," Levy said.