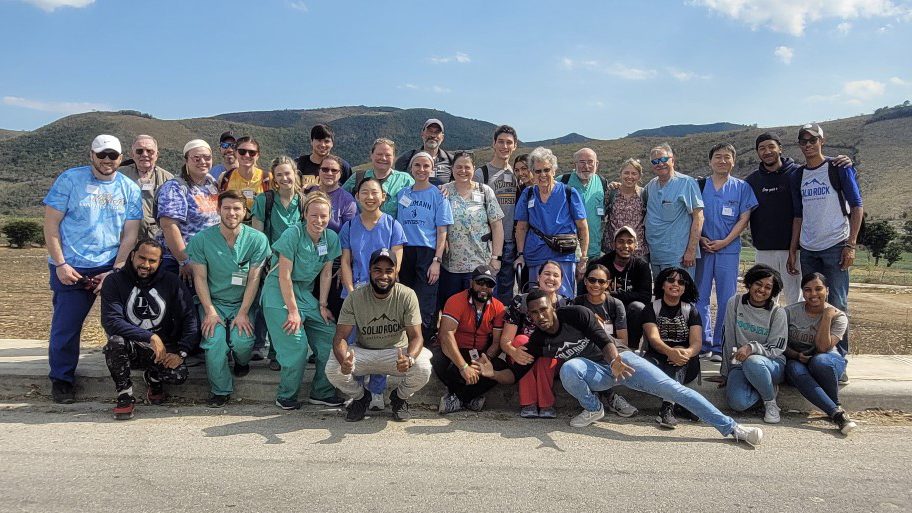 Trips to the Dominican Republic conjure up images of palatial resorts with white sandy beaches and clear blue oceans. However, the eight Neumann University nursing students experienced the other side of this tropical island, addressing the medical needs of those in the community.
The Dominican Republic is located in the Caribbean Sea on the island of Hispaniola, which it shares with Haiti. The country's official language is Spanish. Nursing professor Dr. Amy Luckowski has been taking Neumann nursing students here since 2014. She partners with an organization called Solid Rock International (SRI). This year was the first time since 2019 that students were permitted back due to the pandemic.
SRI is a Christian non-profit focused on transforming the body, mind, and soul of the poor in the Dominican Republic. Many people in this country live far from a healthcare facility, and many do not have the means to afford regular check-ups and essential medicines. The Neumann team stayed in the SRI guest house and traveled to different rural locations each day, providing and assisting with outpatient medical care.
Students enrolled in Luckowski's Cultural Immersion nursing class were required to spend one week in the Dominican Republic working with SRI. They pack donations ranging from personal care items to school supplies and medical dressings and give them to the patients they treat.
"They were a great group and were there for the right reasons. I hope they come back and realize how lucky we are here in the states. We should appreciate all the little things we take for granted, like drinking from a faucet and taking hot showers," Luckowski said.
According to Victor Betancourt, associate provost for global engagement, Neumann University's Center for Global Education is excited to work to expand opportunities for the global engagement of our students and faculty. He accompanied the nursing students to the Dominican Republic.
"During this weeklong experience as part of a medical team providing care to communities in the Dominican Republic, our nursing students exemplified Neumann's values of integrity, excellence, and service," Betancourt said. "It was a pleasure to work alongside them and see them build their professional and intercultural skills while providing much-needed services to patients."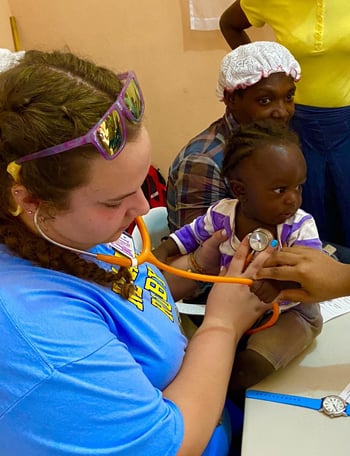 Nursing student Grace Buegel had always wanted to go on a mission trip and jumped at the chance to do it through a nursing course. "I was simply thrilled with the opportunity to serve and provide healthcare to those in need who live in remote, impoverished areas. I have always wanted to travel more and step out of my comfort zone," she said.
Buegel and the other nursing students set up clinics in different locations around the country. She taught people how to measure heart rate, and others did blood pressure screenings and oral hygiene presentations. The students also participated in home visits with the local pastor and translator.
"Overall, this experience will make me a better nurse as I have gained a deeper understanding of what it means to provide culturally sensitive care," Buegel said.
While the focus of the trip was providing healthcare to the locals, the Neumann students did have time to eat at an authentic Dominican cuisine restaurant, play in a softball game, visit a school, tour a hospital/clinic being built by Solid Rock International, explore a local market, and attend mass in a church that overlooked the province of San Juan.
The nursing majors also visited a little girl named Denise, whom Luckowski and her students have been sponsoring since 2017.
"We visited her one day when we were out near her school. She's in fourth grade now and was quite shy, but she did speak in English with us, and we learned some Spanish. She was so thrilled and brought us into her classroom," Luckowski explained.