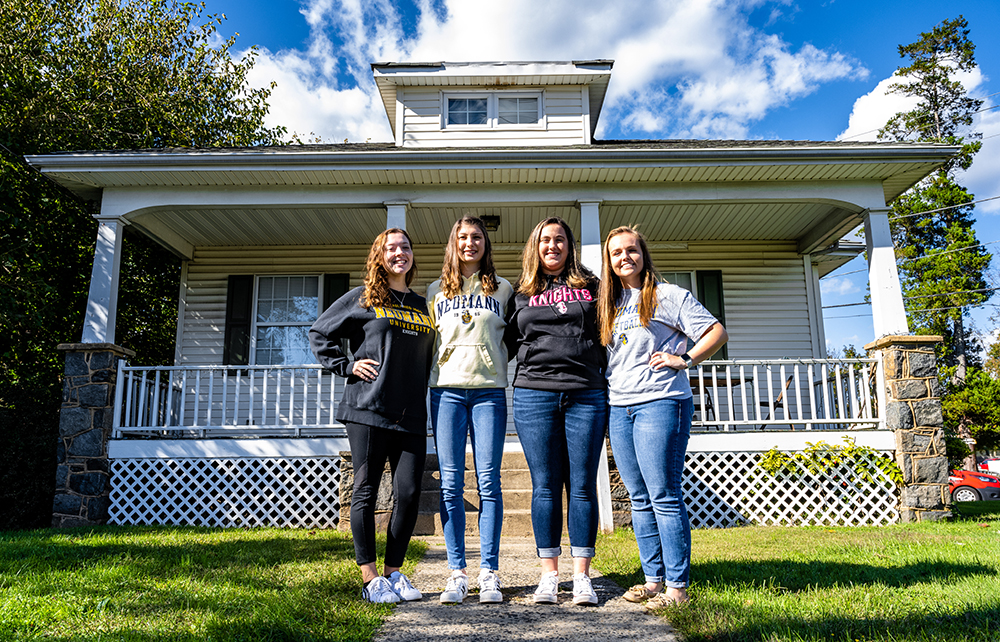 For years the little white house situated at five-points intersection was known as the "4040 house" because of the street address – 4040 Concord Road. Various Neumann University students rented this property which is across the street from the Chiara House.
This year, the house, now called the "Padre Pio House," has an affiliation with Campus Ministry. The five residents have made a commitment to live in a vibrant faith community that celebrates God's love for all and promotes Neumann's Core Values of Reverence, Integrity, Service, Excellence and Stewardship. The university rents the property from the Buoni family.
"The Padre Pio living community was the creative brainchild of Sister Linda DeCero. Sister Linda approached Alex Maurizzio in Housing and Residence Life seeking to create an intentional living community that could collaborate with her already established efforts around pastoral ministry," said Vice President for Student Affairs Dr. Chris Haug.
According to Sr. Linda DeCero, director of pastoral ministry, this year is the pilot program for the Padre Pio House. She created a Padre Pio House Learning Outcomes document which lists five principles that residents of the house promise to adhere to and live by. The five female students who reside in the house are all involved with Campus Ministry.
"I came up with this document that promotes faith formation and spirituality and living in community. What we are hoping is that other students will see it as a model," DeCero said. "I suggested Padre Pio as the patron saint of this house because St. Padre Pio, canonized in 2002, is a Capuchin Franciscan. He is also the patron saint of volunteers and adolescents- certainly reflecting those we wish to reside in this faith community."
The students, Bridget Coulter, Megan Donohue, Kaci Spicer, Carli Trice and Julia Violi, all share the same faith beliefs and have fully embraced this living experience.
"I chose to live in the Padre Pio House this year because I love the idea of really belonging to a community," said Megan Donohue, a junior nursing major. "I personally enjoy being able to talk about my faith openly and having a conversation with my housemates without hesitation."
All of the residents of the Padre Pio House shared similar sentiments and explained the sense of community they experience daily.
"I get to live with four of my best friends that are like my second family," said Kaci Spicer, a junior special education major. "The Padre Pio House does not only give us the opportunity to live together but also grow in our faith together. We have family dinners, participate in prayer line once a week, and go to Sunday mass on campus together."
The five young women living in this house were all friends prior to moving in together. They also all volunteer and/or work in the Campus Ministry office. The bond they previously shared has strengthened over the past eight weeks due to a faith-based camaraderie that has been created in the house.
"Living here has prompted me to become even more active in my faith as we go to mass together on Sundays and pray together on Thursday nights on the Zoom call," said Bridget Coulter, a senior nursing major. "The Padre Pio House is a great opportunity and I feel so blessed to be among the students who were selected to pioneer this university residence."
This supportive community created in the Padre Pio House became even more valuable to the residents due to their daily struggles navigating through this new COVID-19 world.
"It is only fitting that Padre Pio is one of the patron saints of stress relief," said Carli Trice, a senior social work major. "This school year has been an adjustment for everyone, but everyday my nerves are easily put to rest by the glowing personalities of my four housemates."