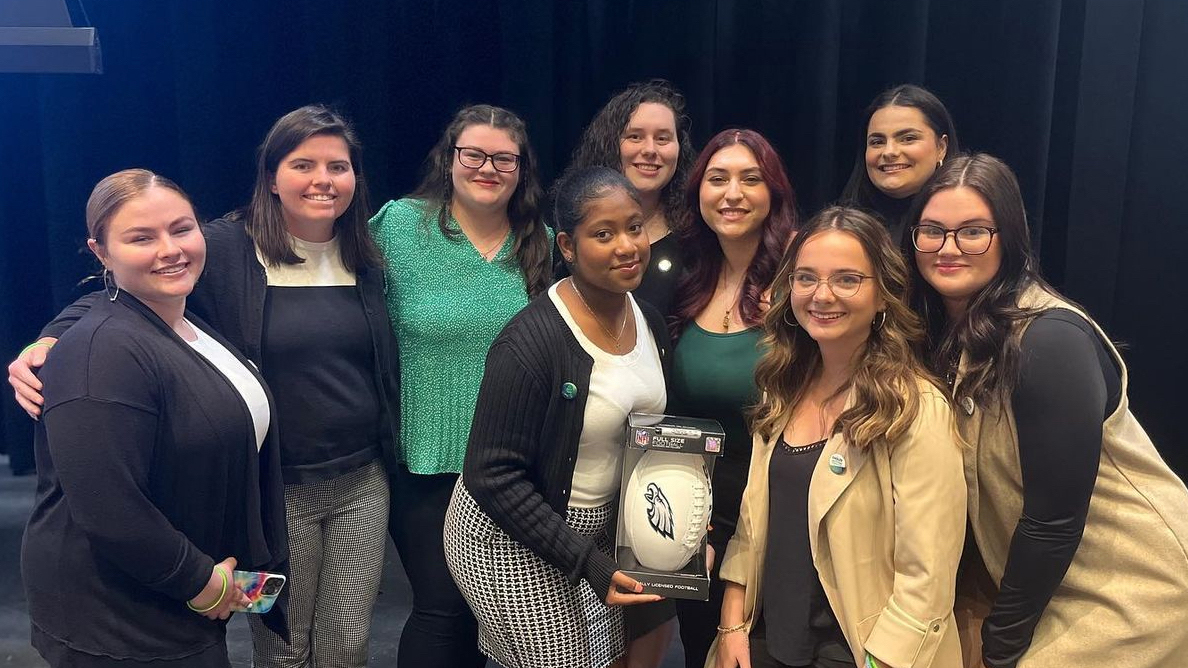 by Sophomore Ryen Hawkey
Neumann boasts many clubs and organizations on campus, with many of them conducting festive homecoming activities. This year, Neumann's Eagles Autism Foundation College Program (EAFCP) will host its first-ever powderpuff flag football match.
On Friday, October 13, at 7 p.m., Neumann and West Chester University will face off in a friendly all-girls flag football game on the turf field adjacent to the Mirenda Center. The contest is supported by the EAFCP groups at both universities.
Neumann generated interest in this club last spring, with the first official meetings held in March 2023. Since then, the club, led by seniors Mirando Foglio and Santina Talotta, has been working hard to create fun student involvement opportunities here on campus.
"The idea of the powderpuff football game really originated from just a clear thought of how we could have a football game for the first time ever here at Neumann," said Miranda Foglio, a senior education/special education major. "Our professor, Dr. Jenelle Abnett, truly brought this game to life by creating it to be an all-girls powderpuff game."
As homecoming week approaches, excitement about the inaugural match is stirring. "This is going to be a big event for us, and we cannot wait," stated Foglio.
The club also hosts raffles, bake sales and other fundraising efforts. Each semester, the group is given a signed item from the Eagles to include in a raffle. This Halloween, they are set to host a trunk-or-treat event on campus.
The Philadelphia Eagles Autism Foundation (EAF) is an organization designed to raise awareness about autism, support individuals with autism, and fund autism research. The foundation hosts many events, such as the Eagles Autism Challenge 5k run/walk and 10-mile bike ride with the goal of raising money for the cause.