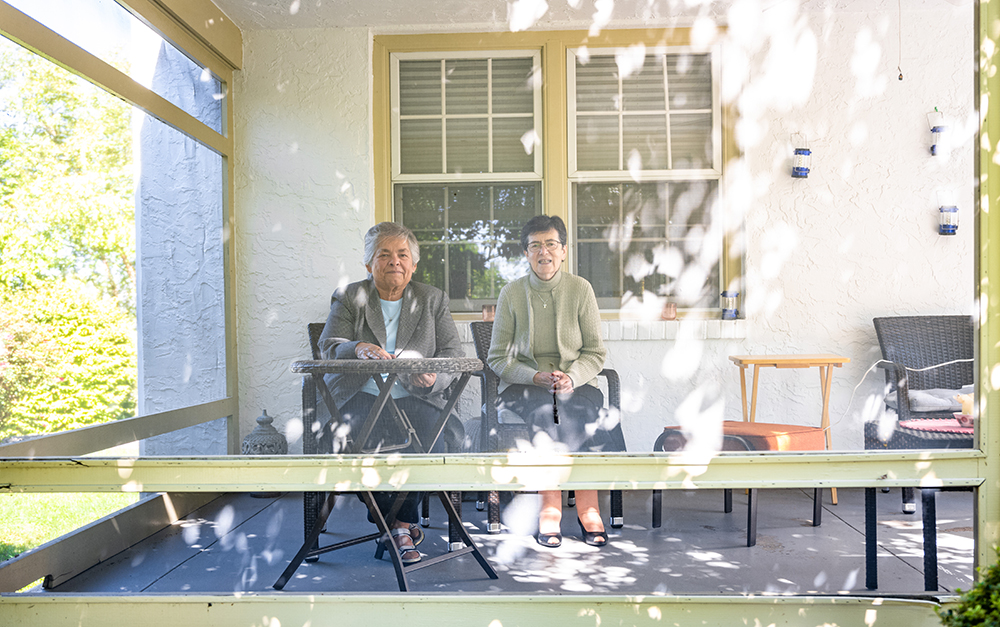 You can't keep a good sister down and you can't keep Sr. Marguerite O'Beirne and Sr. Linda DeCero from doing what they love the most – interacting with Neumann students. These two campus ministry leaders have been strictly following CDC guidelines regarding COVID-19 but developed a rather creative way to continue their ministry to students and the NU community.
The sisters live in the Ministry House located between the Mirenda Center and the dormitories. Fortunately, the house has a cozy screened-in porch on the backside which has become a place for PPE – prayer, presence, and encouragement. The porch lends itself perfectly to this social distancing ministry.
"It's too dangerous for us at this stage in our lives to be mingling with the students," Sr. Marguerite said referring to the virus. "However, we can speak to them from the porch as they go back and forth to the gym."
Visitors to the porch have become a daily occurrence and one that the sisters look forward to. The list of porch visitors is lengthy and includes Dr. Domes, Scott Bogard, and the entire women's field hockey team among others.
"The students look for us and it's so nice," said Sr. Marguerite. "We've met a lot of new freshmen and transfer students."
The porch visits started in the beginning of the semester and as long as the sisters are still isolating themselves, the prayers and conversations will continue. ​​​​​​​
COVID-19 has changed so many of the daily routines and interactions that we all took for granted. The ability to still connect with the Neumann University community is a blessing for Sr. Marguerite and Sr. Linda but also for the students, the staff and the visitors who stop by the porch for some PPE.