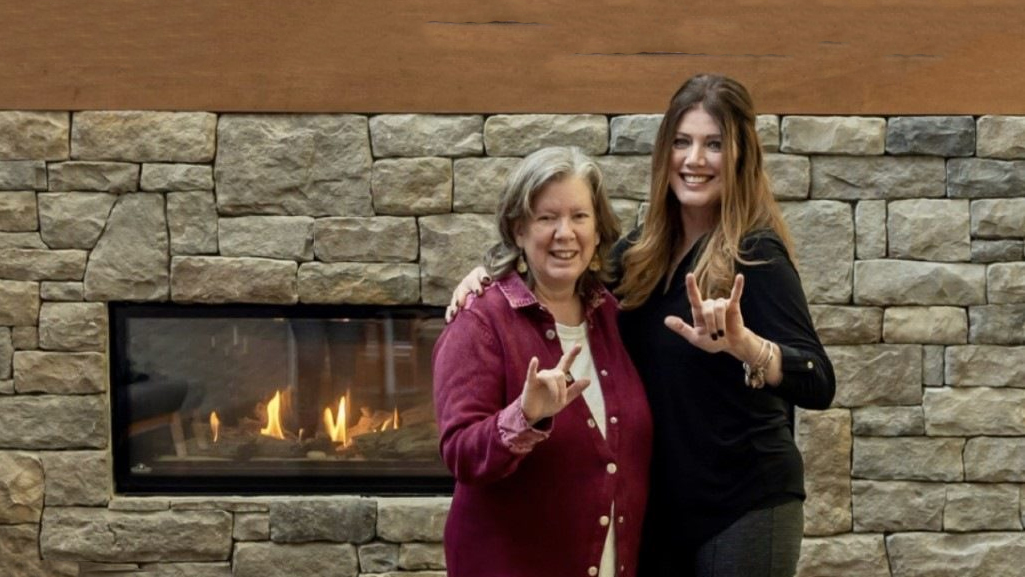 Since 2000, Annie O'Malley has brought her passion for learning and teaching sign language to Neumann University students. For her, it is a deeply personal mission. Her older sister Kathie was born Deaf, and she and her sister shared their family's story with Garnet Valley Living magazine.
O'Malley is one of seven children, the family's baby, and Kathie is the oldest. Growing up with a Deaf sister who used sign language became second nature to O'Malley.
Their parents were truly trailblazers when it came to advocating for Kathie's educational rights. Her schooling started in the special education program at a public school different from her home school. Kathie was grouped with other students who had intellectual disabilities.
"Kathie didn't sign until she was eight because they told my parents, 'Do not dare to sign to her. She's got to learn how to function like a normal hearing person,'" O'Malley explained. "My parents were so young and didn't know any better. They were listening to the experts, but something didn't feel right. They followed their gut instinct and fought the district and won," she said.
When visiting teachers from the Pennsylvania School for the Deaf came to Kathie's school, they taught her sign language. This was a tremendous breakthrough for Kathie and her family.
O'Malley's parents moved Kathie to the Pennsylvania School for the Deaf, and she resided there as a teenager.
"It was a really difficult transition for my parents to send a 13-year-old to a residential school. But she felt like she was home, where she belonged, and that's what she wanted," said O'Malley.
Kathie went on to college at Gallaudet University in Washington, DC, and received a bachelor's degree from Temple University in information technology.
Little did O'Malley know as a child that how her sister communicated would chart the course for her career and land her at Neumann University.
A degree in Spanish was how O'Malley found her way to Neumann. She applied to the university hoping to land a position teaching Spanish; however, what was listed at the very bottom of her resume became the reason for her hiring.
NU professor Claudia Kovach had just piloted an American Sign Language (ASL) class and was looking for another professor to teach the course. O'Malley listed on her resume that she was proficient in ASL, and she was offered the position – one she took reluctantly.
"I didn't want to do it, but I thought it would be a foot in the door, and then I'll eventually teach Spanish. Spanish was my area of expertise. I had lived in Spain and taught Spanish for seven years at a public school. I had never taught sign. I was fluent in it, but teaching it wasn't on my radar," O'Malley said.
Once she started teaching ASL at Neumann, there was no turning back because O'Malley quickly realized that there was still so much for her to learn, and to teach her students.
"It changed my life, and it changed my relationship with my sister," she said.
According to O'Malley, Neumann University is one of only a few colleges that offer ASL as a language requirement for graduation. Her sister Kathie is an integral part of O'Malley's classes. Students are required to have lunch with Kathie, individually or in a group, and use their signing skills. The students quickly realize how capable people who are Deaf, like Kathie, can be.
O'Malley is a proponent for students learning ASL in high school. She has compiled five reasons why students should learn ASL.
Community:There are an estimated 500,000 Deaf and hard-of-hearing people in the U.S. who use ASL. Students who learn this language will be able to communicate with this population.
Culture:Learning ASL promotes awareness, sensitivity, and respect for the Deaf community.
Improved Listening Skills:Speaking in sign language requires looking directly at the person, not at a phone, TV, or surroundings, and therefore fosters more attentive listening.
Improved Public Speaking Skills:Body language and facial expressions are paramount to communicating effectively in sign language. This ability to connect emotions and gestures to the spoken word can greatly improve public speaking and conversational skills.
Improved English Skills:ASL is visually expressive, leading to a greater understanding of metaphors, analogies, poems, song lyrics, and prayers.
O'Malley encourages everyone to learn ASL and invites faculty/staff to observe her classes. There are also classes offered online and apps that will teach ASL.