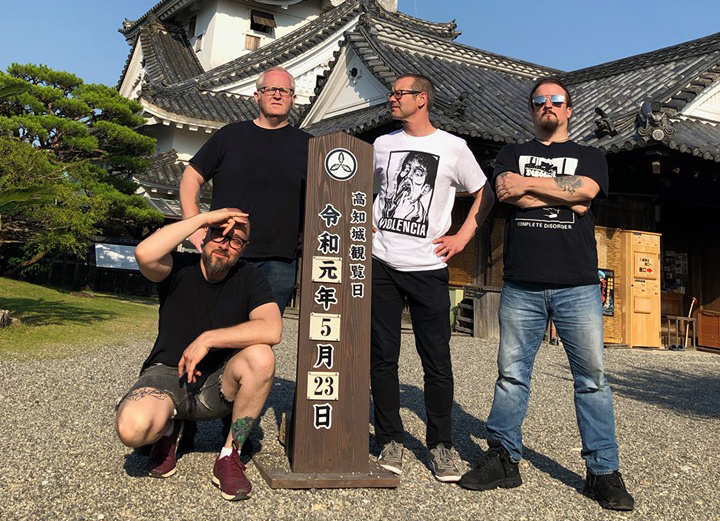 When Janis Chakars (third from the left) stands in front of his students in a shirt and tie, one would never guess that the Neumann University associate professor of communication and digital media is a world-renowned punk rocker. So much so, in fact, that he toured Japan this summer.
Chakars is a founding member of the punk rock band, Citizens Arrest. During the late 80s and early 90s, the band was a household name at the venue ABC No Rio in Manhattan's Lower East Side. During this time Citizens Arrest released an LP ("Colossus"), EP ("A Light in the Darkness"), songs on three compilations, and a live flexi disc.
Often as bands do, Citizens Arrest grew up and apart, but not before launching the musical career of indie rock star Ted Leo, who was the band's original singer. Leo is huge in his own right, but also plays in a group called The Both, with Aimee Mann, from Til Tuesday who had the top ten hit "Voices Carry" in 1985.
And again, often as bands do, Citizens Arrest reunited in 2010 and since then, they have played in New York; Philadelphia; Baltimore; Austin; Washington, DC; Oakland; San Francisco; San Diego; Los Angeles; Montreal, Canada; Leeds, England; Stockholm, Sweden; Tijuana, Mexico; and most recently, Japan.
"We are lucky that people still hit us up on Facebook and offer to fly us great distances to play," says Chakars.
This past summer, Citizens Arrest embarked on a six-show tour around Japan. They opened with a show in Tokyo at the Pit Bar where Crucial Section and Forward (a big name in punk) opened for them.  "Japanese bands are the best," Chakars said, "They are high energy and put on a show like they are 18, even though they are older guys."  
The band made four more stops in Okayama, Osaka, Kochi, and Okazaki, before returning to Tokyo for their final show before heading back to the U.S. 
"Citizens Arrest will never die" Chakars has said, but his new Philadelphia-based band called Grey C.E.L.L., gets more of his musical attention these days. "It is a return to my roots. We play DIY punk shows across Philly and occasionally beyond." They have a record coming out soon on King of the Monsters Records.
In the classroom back in Aston, in his shirt and tie, Chakars tries to teach his students what he's learned from Citizens Arrest, "If you want to do something, you can. Whatever your thing is, you can do it right away. Don't wait for someone else's approval."
He goes on to say, "Success does not mean fame. Make things and present them to people who will care about them. In Japan, I was truly moved to see that somehow songs I wrote nearly 30 years ago continued to mean something special to people on the other side of the globe."