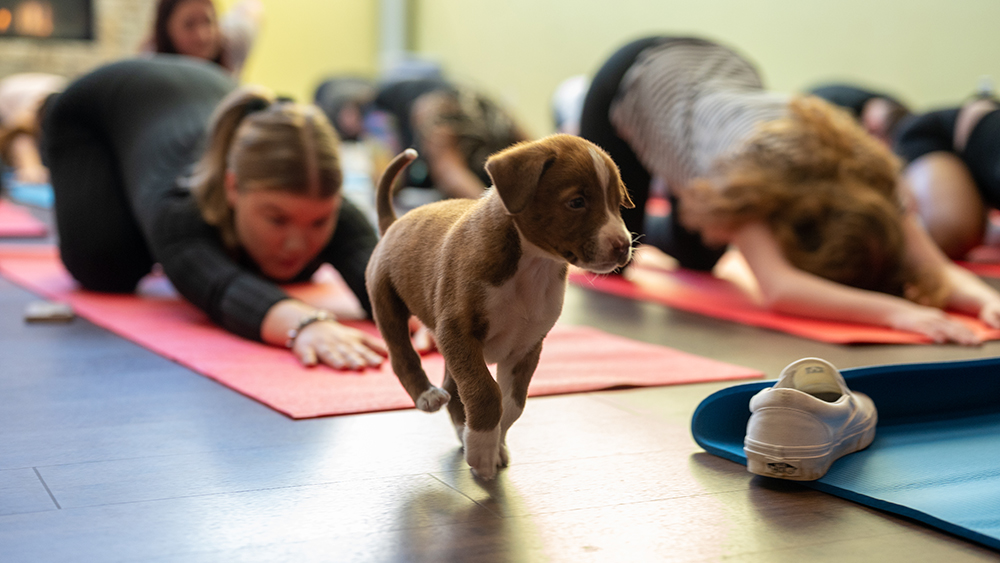 Health Sciences students decided to put stress on paws last week when they created an original cross-breed event, puppy yoga.
College students are hounded by stress, and everyone knows that spending time with pooches and practicing yoga are good ways to relax. So, four seniors in Dr. Kathleen Swanik's class doggedly pursued their dream of combining the two activities into one super stress-relief experience.
On February 23 at 3 p.m., a few stray students joined the 30 who registered for puppy yoga in the reflection lounge on the second floor of the Abessinio Building to retrieve a sense of calm during a hectic semester. Seventy-seven students tried to register, but the space could accommodate only 30.
Of course, the canine celebrities, provided by Rags 2 Riches Animal Rescue in Garnet Valley, were the stars of the show. They scurried from one student to the next, begging for attention, licking faces, and even falling asleep in a few laps.
"I started volunteering at the shelter about four years ago," said Lisa Golob, a senior Health Sciences major who was the group's connection to Rags 2 Riches. "The puppies are about seven weeks old. The mom is a boxer mix, and we expect the puppies to grow to about 50 pounds. They will be ready to go home next weekend, and we have already lined up some meet-and-greets with families next week."
Senior Rebecca DeCarlo was thrilled with the turnout for the class project. "We all like dogs and, with Lisa's connection to the shelter, this was a perfect fit for us."
"This is a service-learning project," explained Swanik. "I worked with groups of seniors to create a volunteer project for the Health Sciences capstone course. As you know, yoga is an excellent stress reliever and so are puppies … so we decided to combine the two."
The four student leaders who wagged the dog on this project are Golob, DeCarlo, Mikaylee Henhawk, and Nicole Arcilla.
Students had no chance to flee from the calming influence of the pups, which one participant described as "Awwww-some."
CBS News covered the event and aired this video on February 23, 2023.