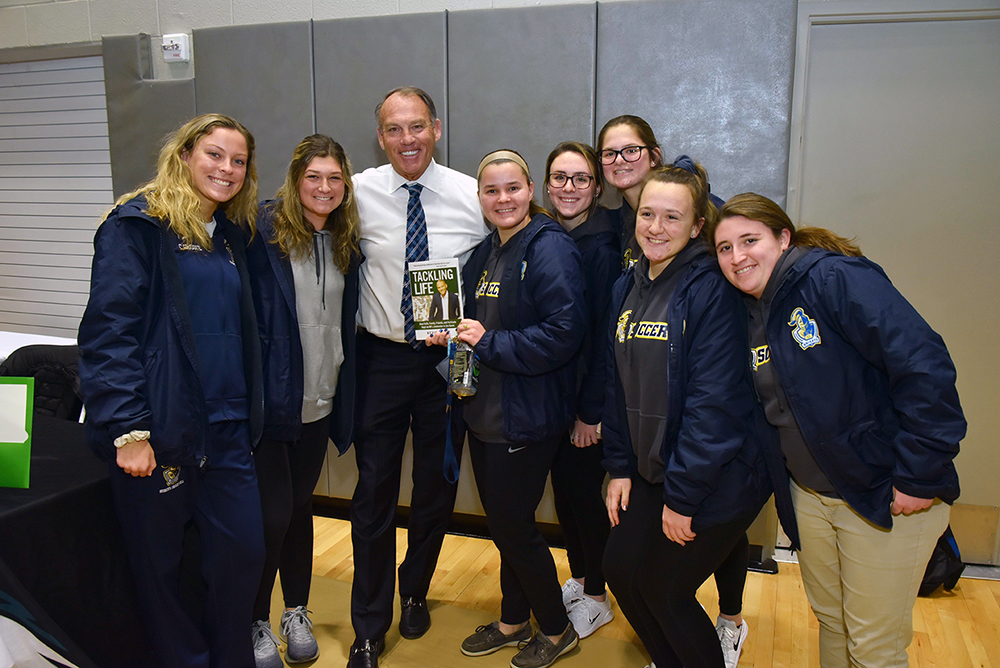 On Thursday, January 31, former Philadelphia Eagle, Kevin Reilly was presented with Neumann University's annual Sport, Spirituality and Character Development award for his courage in overcoming a devastating disease. Reilly spoke to Neumann students about resilience.
After playing for the Philadelphia Eagles for two years and the New England Patriots for one year, Reilly's NFL career was cut short after he was diagnosed with a desmoid tumor. In 1979, Reilly underwent intensive surgery to remove his left arm, part of his left shoulder, and several ribs.
Reilly inspired Neumann students to never giving up while sharing the many obstacles he had to overcome throughout his football career, as well as after his amputation surgery.
While demonstrating tying a tie with one hand, Reilly explained that he had to re-learn how to do everything with one just one arm. Although he knew it was all part of God's plan, there were still some moments of frustration. Reilly, who attends mass three times a week, highlighted the importance of recharging the spirit. He explained that God is going to give everyone problems, but He will be there to help. It is our job to keep in contact with Him and lean on Him to get our spirits refreshed and renewed.
Reilly's story of perseverance had a very positive impact among quite a few Neumann students, "I recently had a shoulder injury and really struggled with my everyday tasks, so I found his story very relatable and extremely motivating," said Eric Madison.
Many Neumann student athletes were grateful for the experience to hear such an inspiring story from a professional athlete, "I think Kevin Reilly's story really put things into perspective for me. It makes me not want to take my athletic ability for granted," said Kyle Pantalone.
In closing, Reilly reminded Neumann students that the human spirit is stronger than anything that can happen to it; however, he urged the crowd not to wait for a crisis to execute resilient attitudes.