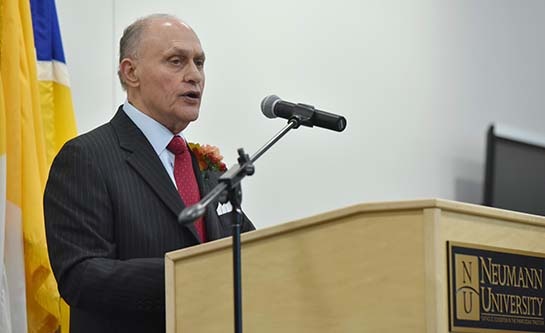 Rocco Abessinio visited campus on October 4, 2016, to deliver the first in a series of annual lectures on entrepreneurship. He and his wife Mary funded the Abessinio Lecture in Management and Entrepreneurship through their family foundation with the intention of bringing to campus each year a recognized professional with expertise in management and entrepreneurship.
Mr. Abessinio, an alumnus and longtime friend of Neumann, is chief executive officer of Roch Capital, Inc., a privately owned capital management firm focused on making investments in quality assets that will be he held for the long term. He is also the founder of Applied Bank and Applied Card System which grew to be the 10th largest issuer of Visa and MasterCard credit cards in the country.
He spoke to a group of 200 Business Division students and faculty members about his experience as an entrepreneur. "While most entrepreneurial ventures start out as a small business, not all small businesses are entrepreneurial in the strict sense of the term," he explained.
"Many small businesses are sole proprietor operations consisting solely of the owner, or they have a small number of employees, and many of these small businesses offer an existing product, process or service, and they do not aim at growth. In contrast, entrepreneurial ventures offer an innovative product, process or service, and the entrepreneur typically aims to scale up the company by adding employees, seeking new markets, and so on, a process which often is financed by venture capital and angel investments."
Despite the fact that many of his family members were sole-proprietor entrepreneurs, Abessinio admits that "Truth be known, I didn't have the same motivation as my relatives. In reality, I wound up working for others, being employed by banks and finance companies … It wasn't until I was in my late forties that I decided to start my own business."
Abessinio explained what led him to this pivotal decision: "I now had worked for a number of banking institutions, I had worked in sales (bowling alley advertising), and I felt that I had proven my ability to manage large departments … I had generated large amounts of revenue for my employers, and quite frankly, I felt that if I could do it for them, I could do it for my family and me."
In addition to funding an annual lecture, the Abessinio family foundation also established the Business Division Professorship in Management and Entrepreneurship in 2015 to fund an annual scholarship for an upper Division of Business student who has exemplified excellence in management and entrepreneurial understanding and application; and to assist in hosting an annual forum led by a recognized professional with expertise in management and entrepreneurship.