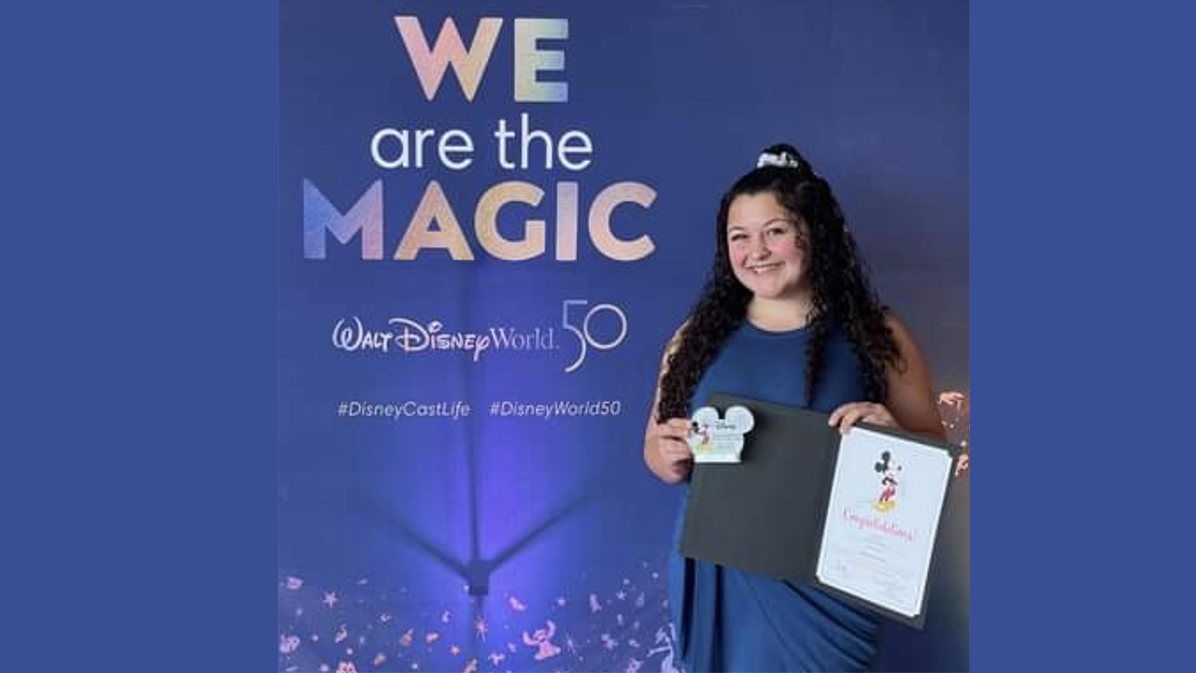 Samantha DiCarlo has accomplished so much since she graduated from Neumann University and moved to Orlando, Florida, each feat more exciting than the next. What started as part-time jobs with two amusement parks has developed into DiCarlo sharing her passions with others.
Many will remember DiCarlo's beautiful voice as she starred in Neumann Players productions and sang with Mission and Ministry during university Masses. Apparently, Neumann University was not the only place that thought she had talent.
In 2021, DiCarlo moved to Orlando the day she graduated from Neumann. Armed with a degree in education, she landed her first job as an educator at SeaWorld. Orlando had been on her radar as a place to relocate since 2018 when she participated in the Disney College Program, a semester-long internship at Walt Disney World Resort.
"When I came here for the Disney College program, I made a lot of friends. I wanted to come back and experience it all again," she said. "There's so much to do here. You can go to an amusement park whenever you want and go swimming every day. That is what I missed about being here."
DiCarlo works as a children's activities director at three Disney resorts. She is responsible for entertainment and can often be found poolside, organizing games and activities for the resort guests.
"I like being loud and energetic and using my teaching skills. I plan the activities and make sure everyone is having fun," she said.
Recently DiCarlo was given a Memory Maker Award from Disney. This honor is awarded to employees who excel in several areas. She was recognized for being a guest favorite, someone other employees look up to, and for going above and beyond her typical job responsibilities during a recent hurricane.
"We had a hurricane here last fall that required a lockdown. I was at the Contemporary (resort), and I stayed overnight and kept working. I got there at 10:00 a.m. and worked until 10:00 a.m. two days later," she explained. "I was very busy."
She returned to SeaWorld to participate in Howl-O-Scream, the park's haunted Halloween event. DiCarlo tapped into her acting skills and played the part of a "scare actor." She aced her performance because last November, she was hired to star in the park's Christmas musical, O Wondrous Night. This show tells the story of the birth of Jesus through the eyes of the animals who were present that night in Bethlehem.
DiCarlo played the part of a herald angel who helped tell the story. The show ran from November 18 until January 6, and DiCarlo performed in each show while continuing to work her other job at Walt Disney World.
"O Wondrous Night was a huge deal for me, especially since I'm a Catholic, and to be able to bring the story of Jesus to a theme park in Orlando is crazy," she said.
Next up for this aspiring actress is the role of an ancestor in The Addams Family at the New Generation Theatrical in Orlando. The show opens on February 23. In addition, DiCarlo just auditioned for a singing/dancing role in a SeaWorld parade.
"The SeaWorld show was my dream come true. I've always wanted to do theater full-time and get paid for it. I'm going to get to do it again in The Adams Family," DiCarlo said. "Next, I would love to get my Equity card which I'm working toward, but I'm not there quite yet."