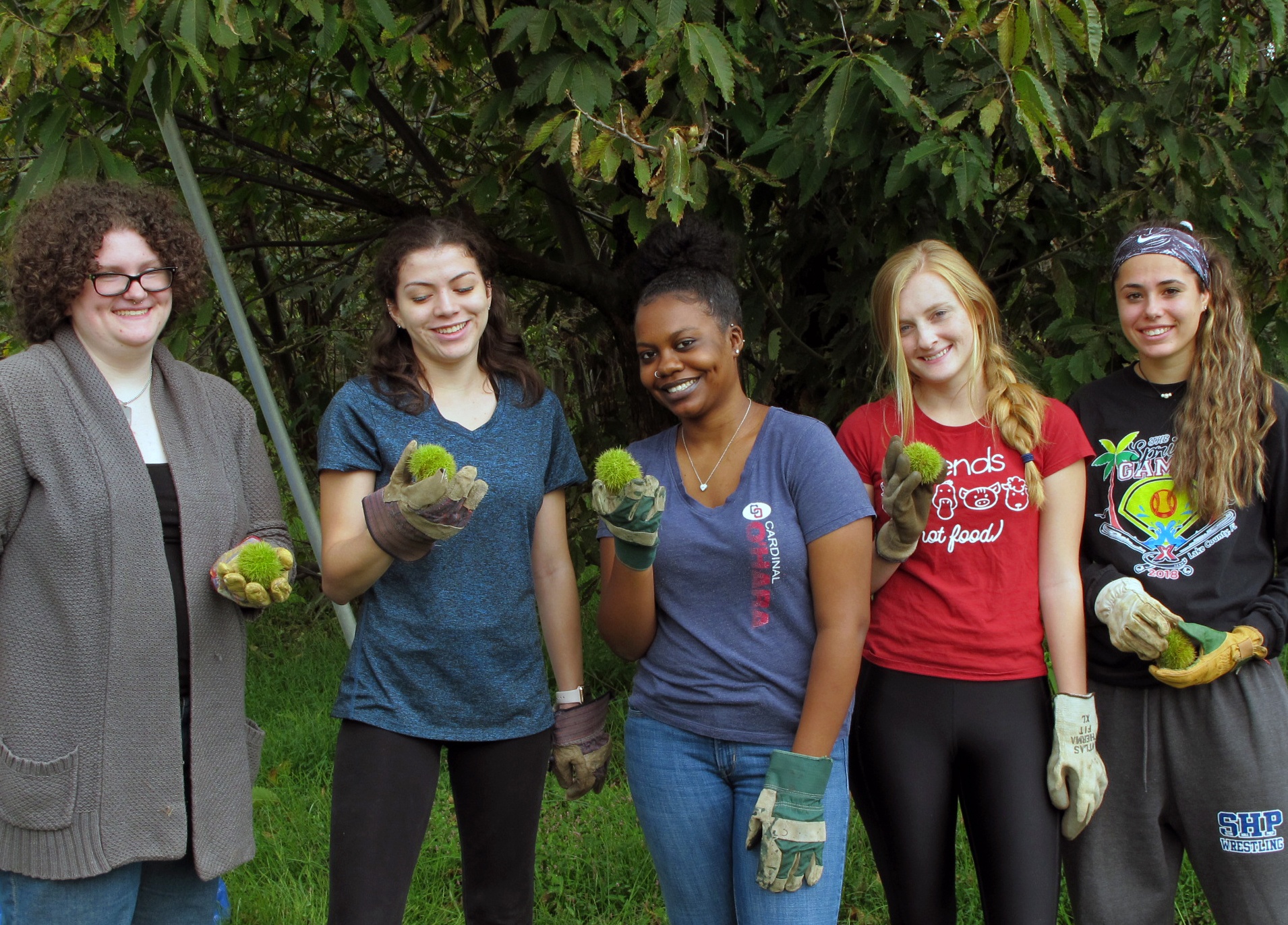 This fall, biology professor Mac Given and 11 students helped harvest American chestnuts at Tyler Arboretum. However, these nuts will not find their way to the roasting pit. The harvest is done in an attempt to save the American chestnut trees from disease and extinction.
Since 1997, the arboretum has been supporting The American Chestnut Foundation's (TACF) program to restore a blight-resistant American chestnut tree to the natural landscape. A fungus, which was brought to the United States more than 100 years ago from China, is killing the American chestnut tree.
"I became acquainted with the project when I was on sabbatical in 2013 and it thought it would be a good fit for students in the ecology lab," Given said.
It is a hands-on project for the students, and one that requires gloves. A chestnut tree has burs which are spiny coverings that contain and protect the fruit. Students pick the burs and very carefully remove them from the trees.
"Harvesting of the nut is labor intensive. You have to go up on a ladder and pick the bur and inside the bur are one to three nuts. We have to open up the bur and extract the nuts," explained Given. "The nuts are ripe but haven't fallen, and we're trying to stay one step ahead of the wildlife."
Prior to volunteering at Tyler Arboretum, students became familiar with the native chestnut, the blight that threatened to destroy it, and the efforts that are being made to recover the tree. The chestnut tree orchard was planted at the arboretum with seedlings from Pennsylvania.
Nuts harvested each fall from these trees support breeding at other locations around the state. The harvesting program is now providing advanced hybrids that are seven generations into the process of capturing resistance to the chestnut blight.
According to John Wenderoth, TACF board member, the American chestnut was not just another tree. Some have called it the perfect tree. Capable of growing to a diameter of five feet and reaching 100 feet in height, its nut crops were a major food source for wildlife and a cash crop for mountain folks who sent wagon loads of chestnuts to market for the fall and winter holidays. The straight trunks produced excellent lumber that was particularly remarkable for its durability.
Biology major Curt Yenchik, who is currently doing an internship at the arboretum, also helped with the chestnut harvest. He was overseeing his fellow Neumann University students and helping them with data collection and opening the nuts. Yenchik has worked at Tyler Arboretum previously, harvesting chestnuts with Given and working on invasive species removal.
"I'm the kind of person who likes being outside. I didn't want an internship where I was looking at a computer for four to five hours a day. I look at being at the arboretum as my escape," Yenchik explained, and thanks to Given, he found an internship that allows him to work in the field - literally.