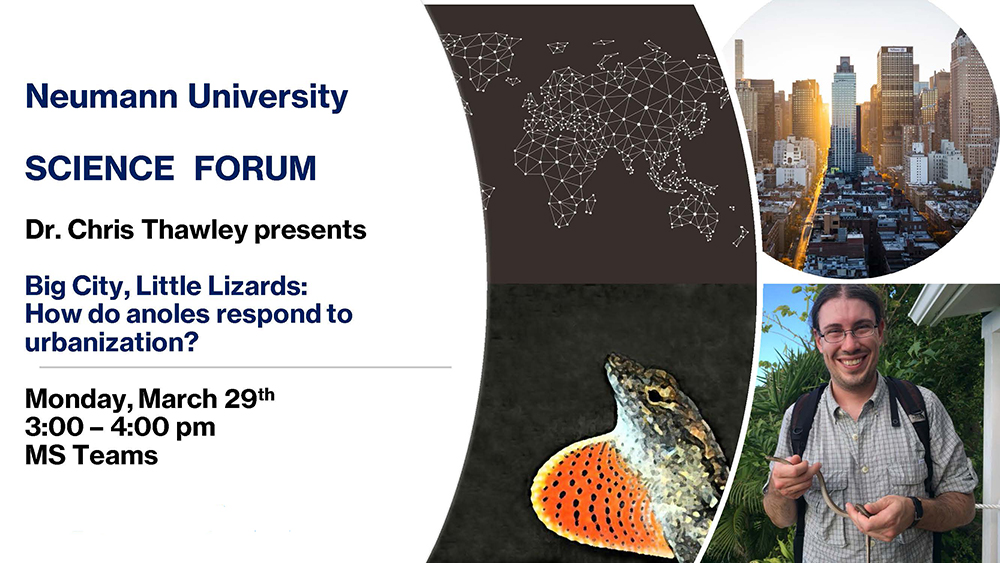 Biology Professor Dr. Chris Thawley hosts the first in a series of Science Forums on March 29, 2021, from 3:00 -4:00 p.m. via Microsoft Teams. This event is open to the entire Neumann Community. Thawley, who joined the Arts and Sciences faculty in the fall of 2020, said his presentation will not be a hardcore science talk, but rather a discussion geared toward everyone.
Thawley will highlight the work that he has done for the past two years relating to how lizards, specifically anoles (the small chameleon-type), are impacted by environmental changes made by humans. Specifically, he will focus on how these reptiles deal with artificial lights during the night. (A little-known fact is that there are a few species of lizards that call the City of Brotherly Love home.)
Thawley's presentation will also explore what these environmental changes will do to natural ecosystems and what humans can learn from lizards living in cities. Thawley compared anoles to lab rats because of the amount of research that has been conducted on these lizards in the past 70 years.
NU Biology Associate Professor Jude Okoyeh was the one who introduced the concept of a science forum each semester. The department's Science Working Group will invite speakers and presenters from within and outside Neumann University to share their interests/pursuits in life that has positively impacted humanity either through their personal achievements or academic research findings, or both.
"I have always believed that, 'cross-fertilization of knowledge and ideas with people is a vital platform to maintaining a continuous and sustained growth both for an individual and for an entire community,'" Okoyeh explained.
Use the link below to join the event on March 29th.