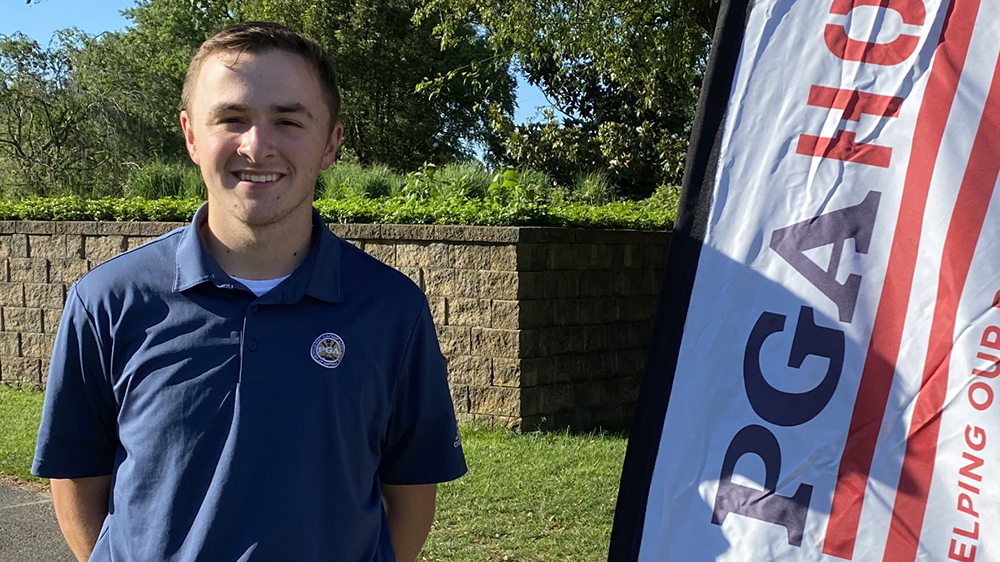 This summer, Sean Flannery, a junior sport management major from South Jersey, is completing internship number three with PGA REACH Philadelphia. This non-profit is the charitable arm of the Philadelphia Professional Golf Association Section. Its mission is to serve the community and grow the game of golf through three pillars: Youth, Military, and Diversity.
The purpose of the Youth pillar is to serve local youth by providing programs that support positive life/skill development and opportunities to learn and play the game. The Military pillar introduces golf to veterans to enhance their physical, mental, social, and emotional well-being. The final pillar, Diversity, offers scholarship opportunities for individuals from diverse backgrounds to participate in the Philly Junior Tour (PJT).
Flannery credits fellow alum Courtney Curcio, '18 with connecting him to this internship, which has opened his eyes to a potential career in professional golf. Curcio, foundation coordinator for PGA REACH Philadelphia, spoke at one of Flannery's classes and he was instantly impressed with the organization and its mission.
"I was on LinkedIn and I saw a post from Courtney about an internship. I just thought it was so interesting. They work a lot with veterans, and I have a soft spot for vets," Flannery said.
Curcio is Flannery's boss at this 40-hour a week paid internship. His title is communications intern, and his job responsibilities include working the organization's golf outings at various courses throughout the Delaware Valley Region. At these outings, Flannery is responsible for creating graphics for social media posts and photography. Prior to the events, he writes press releases and plans the day's activities.
While Flannery says his golf game is still a work in progress, he can certainly boost that he has been to some of the most prestigious golf courses in the area such as Union League National in Swainton, New Jersey. However, he did receive a set of golf clubs from the golf professional at Bensalem Township County Club, so it is only a matter of time until he's shooting par!
Perhaps his favorite aspect of the internship is working with a program called PGA HOPE (Helping Our Patriots Everywhere), which is a free five-week instructional clinic for veterans taught by PGA professionals. "It's an awesome program and it's great to get to know these people," Flannery said of the veterans.
Flannery has done an excellent job immersing himself in various internships and volunteer experiences in the sports industry. He has interned with Swarthmore College, Perfect Game USA, and volunteered this past spring at the NFL Draft in Cleveland, Ohio.
Next summer Flannery plans on securing an internship with the PGA in Florida.
"Golf is just so much fun to work in. I just love it," Flannery said. "I did not even think about working in golf at all but now I know it's somewhere I want to be."