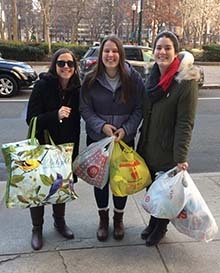 by Kelsey Sullivan and Olivia Gilbertson
On the morning of Monday, February 6th, Olivia and I ventured to Philadelphia with Patrick and Maria [Director of Campus Ministry Patrick McKenzie and Campus Minister Maria Marx] to hand out the Giving Tree gifts that were collected during the holiday season. With the generosity of the Neumann community, we were able to collect and distribute gift cards, hats, gloves and blankets to the homeless of Philadelphia. We covered a lot of ground during our four hours. Starting in Rittenhouse Square, we began trek through Center City. Our first encounter with a gentleman on the corner of 17th and Walnut was the most intimidating.
Previously, whenever we saw a homeless person on the street, we would continue with our day, walking past without any thought. Today was different. Today, we were seeking out these homeless men and women. When we approached this young man, we felt awkward and uncomfortable. What are you supposed to say to a person who is holding a sign asking for anything that you were willing to give? After we gathered our thoughts, we walked up to him and offered him the hats, gloves, and gift card to Wawa. We had in a brief conversation about who we were and from where we were coming. He said that he was familiar with Aston and the commonality brought a smile to his face. As we went on our way, he shared his gratitude with us and waved goodbye saying "God Bless".
We continued on our quest and event wound up at Suburban Station, where the homeless men and women were camped out on the floors of the station. Some of the men were sleeping on the floor, so we left blankets for them to find when they awoke. Those that were awake were once again very appreciative of what we had to offer. One particular woman, who had on only one shoe, stuck in our mind from Suburban Station. She was so happy for our offering, yet insistent on having a black hat. We were searching through our bags for the black hat that she wanted, and once we found one that she approved of, she smiled from ear to ear.
We stopped by St. John's Hospice, where the men were waiting outside for the lunch program to begin. There was so much need, that we were cleared out of our men's bundles and we seemed to gather a crowd and handed out many gift cards. We hadn't seen many homeless woman on our trip, so we decided to walk down 13th Street to Mercy Hospice, a women's shelter, where we were able to give the rest of our women's hats and gloves. The receptionist at the shelter was very warm and appreciative of us stopping by and gladly accepted the donations. Along the way, we passed out gifts more people on our route. They had one thing in common—how grateful they were for the gifts that the Neumann community had collected.
As co-chairs of the Hunger and Homelessness Awareness Committee, we held various events in this year to raise awareness. The Hunger Banquet was an interactive event that visually represented the different social classes. Each class ate a different meal depending on financial status—the upper class was served whereas the lower class sat on the floor and shared a community pot of rice. We held our Sleep Out for Homelessness and had two guest speakers who work with the homeless of Philadelphia. We eventually slept outside in solidarity with the homeless.
Having facilitated these experiences, and then directly being able to serve those impacted by poverty, we both feel blessed to be a part of this community, where we are able to walk with our sisters and brothers who go without their essential needs. Our hope for the future is to keep raising awareness to the Neumann community so that we can continue to live out our Franciscan mission and our core values. We unite in prayer as we always remember to preach the gospel, using words only when necessary.