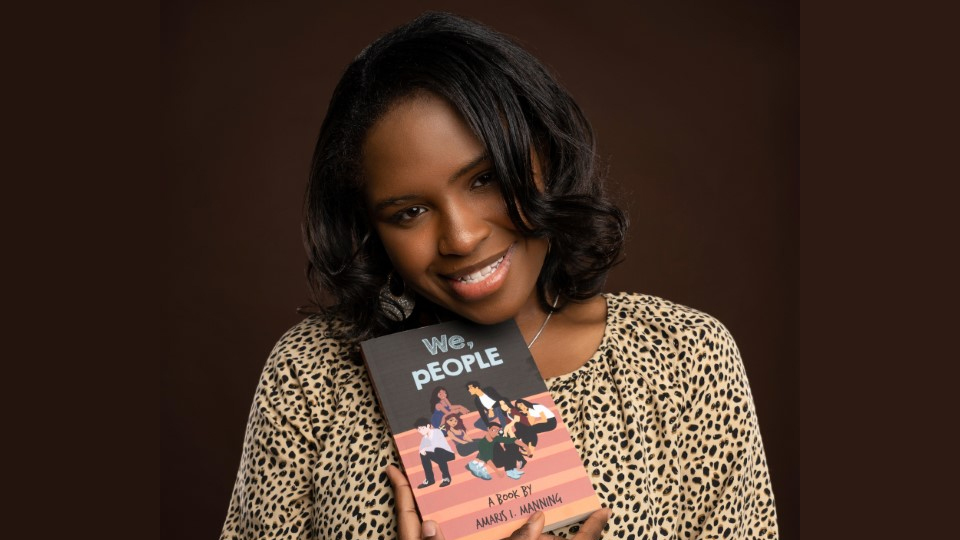 CDM senior Amaris Manning has checked one thing off her bucket list – writing and publishing a book. Her book, We, pEOPLE, tells the story of everyday teens going through everyday struggles. The book is available at amazon.com.
The concept of writing a book has been in Manning's head for many years, and she began writing this book while she was still in high school. She characterizes this book as fiction, but definitely used some of her own life's parallels in her writing. For example, the book's heroine, Meagan, has a heart condition and so does Manning. Also, the book is set in Philadelphia and Manning is from the city.
"In school, I did not have a lot of friends, but I had a few (friends and teachers) that taught me a lot. So I decided to put those experiences into this book," Manning said.
In the book, Meagan is faced with challenges when her best friend moves away during her sophomore year. A new family moves into her friend's house, and Meagan is not happy about the new neighbors. However, as the story unfolds, Meagan learns more about her neighbors and friendship grow.
"Meagan is African American, Donald, Carmen, and Morris-Lina are Hispanic, Benton is Korean, Christopher is Irish-American, and Peter is Dominican. Culturally, they are different, and yet they experience normal things that everyone goes through at some point during their lives: love, loss, unnecessary drama, and heartaches," Manning explained. "Also, they remain a tight-knit friend circle while going through these experiences together, which is profoundly special in my heart because despite hard times, people can be united, regardless of race, gender, religion, or orientation."
Writing this 239-page book took Manning over four years. She did not have to go far to get editing help. Her grandmother reviewed her manuscript and offered edits. Manning also illustrated the book. The title of the book is eye catching, not only because of the words used but because of the way they are presented.
"I went with the title "We, pEOPLE" because the book is about us as people going through everyday challenges, facing changes, good or bad, and trying to move forward with our lives," Manning explained. "None of the characters have things going easy for them. I always believed that the style of the title should reflect the story, so a unique title reflects a unique story."
Writing comes easy to this author who dreamed of being a best-selling author as a child. What she had to learn was the publishing end of the business. After researching the subject, Manning decided to use Amazon, which provides an on-demand printing option. To date, she has sold approximately 60 books and will never forget when she received her first copy.
"I literally smelled the pages. I was so happy! My parents and little brother have all read it," she said, adding that she plans on writing a follow up book with the same characters. ​​​​​​​
Manning is currently working part-time at KYW Newsradio and has been since 2019. She works weekends at the editor's desk, searching for content. At NU, she is also double minoring in Criminal Justice and Political Science. After graduation, she plans on continuing her education at Temple University to obtain a master's degree in media studies and production.