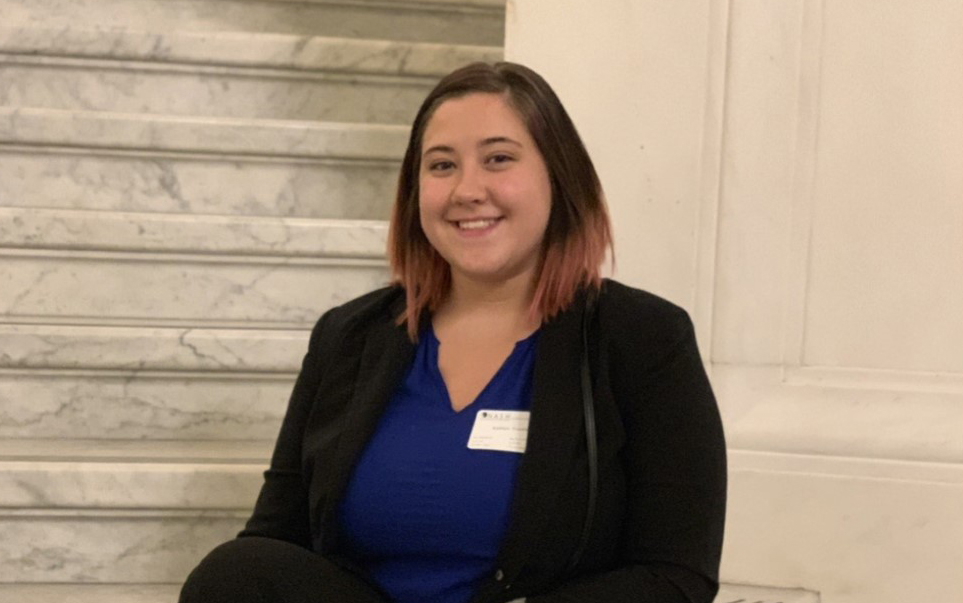 Kaitlyn Tracey, a senior social work major, is on a mission to get her classmates to register and vote in the November 3 election.
Tracey has been named a Democracy Fellow by the Campus Vote Project, an organization that works with universities and election officials to reduce barriers to student voting. The organization's main goal is to empower students with the information they need to register and vote.
The paid fellowship requires Tracey to work 10-15 hours a week, organizing voting awareness events and outreach programs. She has already helped to arrange post-debate discussions for students, staffed voter registration tables at various locations on campus, and posted information about voting on social media platforms.
Tracey is also planning to host an Instagram Live Q&A session with students in the days after the October 19 voter registration deadline in Pennsylvania. Many college students are first-time voters, and she wants to make sure that they feel at ease with the process.
The graduate of Archbishop Ryan High School is planning for election day, too, working with the campus safety office to coordinate rides to polling places on November 3 for those who have registered locally. The goal is for at least two campus shuttle buses to provide all-day transportation to the polls.
"This fellowship has really educated me about how much goes on with voting and how important it is to vote. I'm learning so much, and it's drawing me into the process," explains Tracey. "And I'm seeing a lot more student interest in voting for this year's election."
She was encouraged to apply for the fellowship by Bridget Haines-Frank, the dean of students, and learned in August that she had been accepted. Tracey is one of only 300 Democracy Fellows in the country and one of 50 in Pennsylvania.
On campus, she collaborates with a voter engagement committee that includes the political science and social work departments, campus ministry, student government, campus safety, and the dean of students.
The fellowship also connects Tracey with college students across the county, some from prestigious universities such as Yale and Harvard. The fellows hold weekly virtual meetings and discuss ways to increase student voting. "It's amazing to see what other students are doing on other campuses and to see people like me doing the same thing for voter awareness," Tracey says.
The experience has enabled Tracey to see beyond this year's presidential election and realize the importance of all elections – state, local and national. "It's about educating students on voting, not just presidential but also local elections, so they understand why their votes matter," she says.