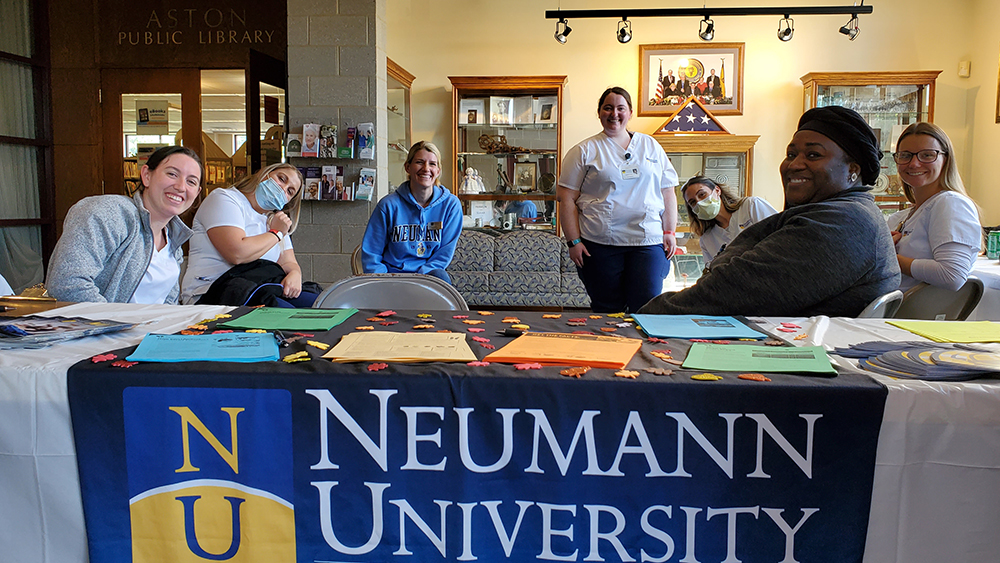 Hurricane Ian may have forced a date change for Aston Township's Community Day, but that didn't stop Neumann University nursing students from volunteering at this annual event. Nursing professors Dr. Rebecca Mueller, Marie Ranselle, and Lisa Bjorkelo attended the event with students enrolled in the community health nursing and pediatric courses.
Thirteen students spent the day with township residents promoting healthier lifestyles.
The NU students could earn clinical hours through this outreach program, which included staffing several stations to promote better health and safety. One of those stations focused on bicycle safety by offering helmet checks, bike sizing, and proper signaling when biking.
The nursing students also volunteered inside the Aston Community Center, conducting blood pressure screenings, sharing proper hand washing techniques, fine motor skills assessments, and height and weight charting.
According to Mueller, the students raved about participating in Community Day and really valued the opportunity to help people in Neumann's neighboring community. "It's really a very fulfilling experience for our students," she said.
Nursing major Rosalie Crescenzi worked with other nursing students doing blood pressure screenings and educating people about what these numbers mean. She used a poster board to illustrate the effects of high blood pressure and the risk factors associated with this condition.
"This experience introduced me to many different people of all different ages. Being able to practice blood pressure screenings manually and educating patients will be something that I take with me through my future nursing career," Crescenzi explained. "I wanted to see what it was like to be a community nurse for a day. I have always been in hospitals and have never experienced people in the community setting from a nursing perspective. It was a wonderful opportunity, and I would certainly love to do it again."
Fellow nursing major Lauren Ruggiero also participated in Community Day and said the experience opened her eyes to other nursing roles in community settings.
"I signed up for Community Day to experience the role of a community health nurse. Since most of our clinical rotations are adult med/surg, it was refreshing to experience other possible nursing roles, and it gave me a chance to connect with those living in the community," she said.
Aston Township hosts Community Day, and Neumann University students have participated for over ten years. The event was not held for the past two years due to the pandemic.