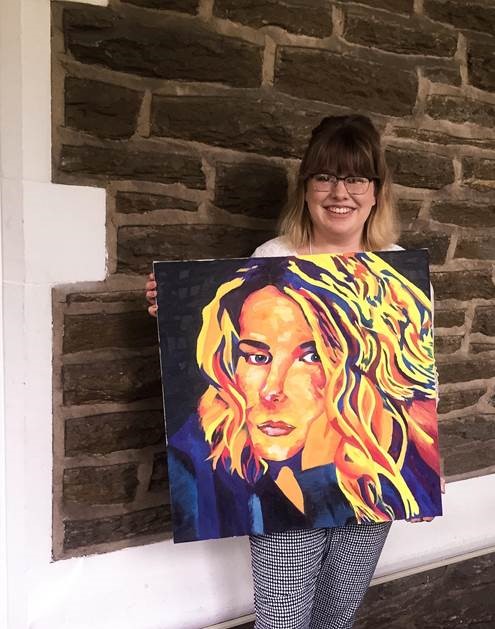 Samantha Locklear, a senior English major, presented an original artwork entitled "Haecceity" at a National Undergraduate Conference on Body Image at Cabrini University in September.
"With this piece," Samantha explains, "I wanted to shed a positive light on body image by expressing the significance of the individual person. I purposely used bright colors to emphasize the special qualities that exist within everyone that makes them different from others. Using the word Haecceity as the title helped convey the message that we are all concrete and special just as ourselves."
Haecceity derives from the Latin word "haecceitas" which loosely translates to "thisness." Samantha notes that the term "refers to the essence or qualities of an object that makes it different from everything else." It is a term coined by Franciscan philosopher, John Duns Scotus.
"I wanted my audience to think about their self-worth as I feel it is crucial for everyone to do so. We spend so much time comparing ourselves to others but we need to realize that we will always be different (we will be "this" verses "that," as Scotus might say)."
At the conference, Samantha learned that everyone has different perspectives on what 'body image' means. "I was lucky enough to witness spectacular presentations made by students and professors on different approaches on how the body is viewed. Some presentations discussed negative body image (especially in women), but others were uplifting in ways that they expressed that we need to care for our bodies."
She also admits that she learned to appreciate the work that she does. "In presenting a painting, I knew that my approach was different than most other presentations. I didn't expect my presentation to have such a high impact on some students."
The conference included presentations entitled "Reasons for Exercise and Body Satisfaction in College Students," "The Beauty Complex," "Blue Lemonade: A comparison of Beyonce's album and the original blues music" and "Making the Misunderstood Understandable."
A resident of Aston, Samantha plans to work in publishing after graduation and pursue a master's degree.