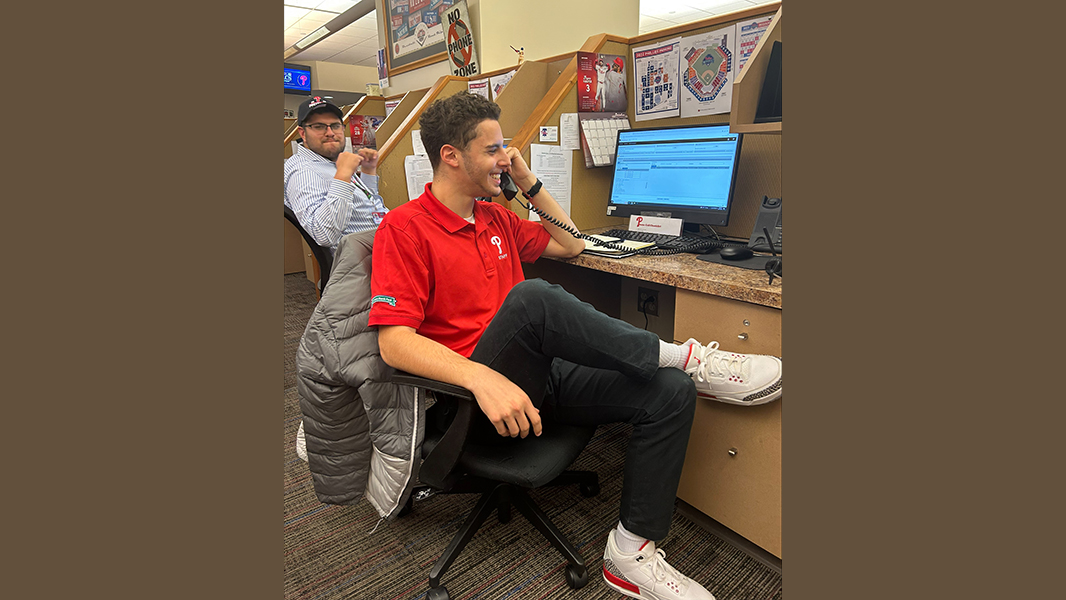 Baseball fans throughout Delaware Valley are celebrating Red October and following every pitch of the Phillies' postseason run. As an employee of the club, however, senior Joe Saxton is more personally immersed in Phillies Phever.
Saxton holds a part-time position with the Philadelphia Phillies as a ticket services representative. "With the hype around Red October," he explains, "I personally take over 500 phone calls when working in the office due to our passionate and loyal fan base."
After being a day-of-game employee for most of the season, he was promoted to a ticket office spot toward the end of the team's six-month marathon schedule to secure a postseason slot. He was "kind of thrown right into the fire" with the playoffs around the corner.
But he has no complaints.
"The fans truly are amazing and exactly what you hear on TV. We have people who call 200 times a day to try and get tickets. This fires me up and excites me to be a part of this amazing culture that has gone on for generations."
Working at Citizens Bank Park this season, Saxton has met Phillies legends like Ryan Howard, Jimmy Rollins, Mike Schmidt, and others.
"My favorite moment," he confesses, "was working alumni weekend and escorting all the former Phillies players to designated areas of the ballpark. My time with the Phillies has been unforgettable and a remarkable experience."
He graduates in December and gives Neumann a thumbs-up.
"The Sport Management program really helped prepare me for this moment and adapt to the new environment. I have to credit Dr. J (Julie Lanzillo) and Dr. (Caleb) Mezzy for pushing all their students to be the best version of themselves and to act professionally in exciting environments."
Thanks to his time with the Phillies, Saxton's resume now includes customer service and account maintenance, selling individual tickets for MLB events in a major market, assisting various departments with the club, and acting as an outreach and recreation site leader.