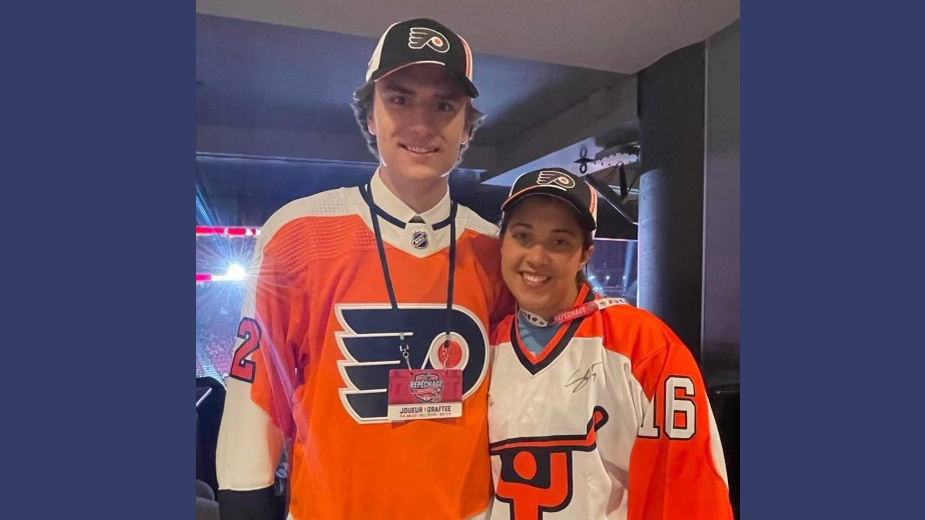 Senior Jasmine Martinez announced the first pick of the Philadelphia Flyers during ESPN's live coverage of the National Hockey League draft on July 7.
A member of the women's ice hockey team at Neumann and a longtime participant in the Ed Snider Youth Hockey & Education program, Martinez was poised and confident as she strode to the mic at the Bell Centre in Montreal and revealed the team's first-round pick, Cutter Gauthier.
"Being up there on stage, I have a feeling I'll be able to inspire other young women to keep pursuing their dreams," said Martinez before the ceremony.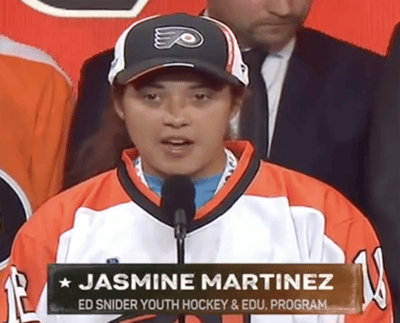 "As a student-athlete studying and preparing to enter the sports industry, this is an amazing opportunity for me to expand on my experiences and build further connections," she added. "I am very excited to see what the future holds for me. I am grateful to the Philadelphia Flyers for this incredible opportunity and to Ed Snider Youth Hockey & EducationTM for the many opportunities it has provided my family and me. I am psyched to be a part of the NHL draft this year and represent the Flyers, Snider, and the City of Philadelphia."
Valerie Camillo, president of business operations for the Flyers and a member of the Ed Snider Youth Hockey & Education Board of Directors, worked directly with Snider Hockey & Education to provide an all-expense-paid trip to the draft in Montreal for Martinez and her mother, Jennifer.
Martinez is a first-generation Ed Snider Youth Hockey Goals & Assists Scholar. The award covers tuition, room and board at Neumann where she has been successful both academically and on the NCAA women's ice hockey team. She plans to graduate early, in December 2022, with a degree in Sport Management and is already taking graduate courses in Neumann's Sport Business master's degree program.
She has participated in community service programs during college, including a meeting with students from Chester's Drexel Neumann Academy in February to encourage them to attend college and earn a degree.
According to Scott Tharp, president and CEO of Snider Hockey, Martinez has participated in Snider programs for 14 years (since age 7) on both girls' and co-ed travel teams and currently serves as a mentor and coach to students enrolled in Snider Youth Hockey camps. She has represented Snider programs on the ice, as well as in international competition in Europe as a member of the USA Women's Ball Hockey U20 team.