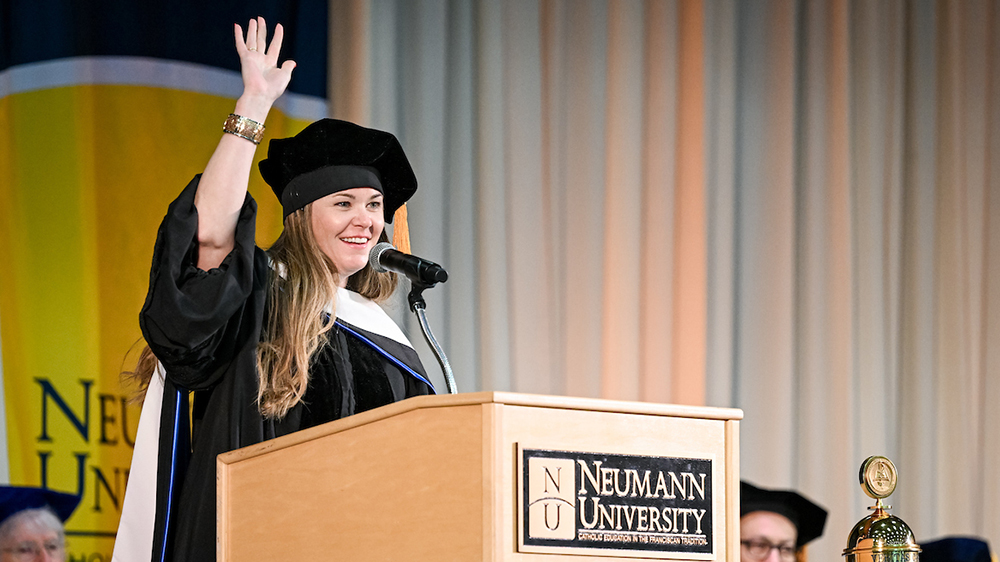 A self-described "free spirit" and "rule breaker," Kristin Prinn urged Neumann University's graduates not to stress about the future in her May 13 commencement address.
"Your way will find you," she said. "Look for opportunity, and remain open, brave and willing to take risks. Get comfortable being uncomfortable. And above all else, lead with love."
A social worker and advocate for social justice, Prinn has helped teenagers in Camden for 16 years as the founder and executive director of LUCY Outreach (Lifting Up Camden's Youth), a nonprofit youth development center. She started the organization in 2007 when she was just 25 years old.
Ninety four percent of LUCY participants live at or below the poverty line, and 74 percent are from immigrant families.
The mission of LUCY is to empower the city's youngsters to form healthy relationships, make good choices, and develop into compassionate and socially responsible adults who make a positive difference in their community.
"So many here at Neumann have seen potential in you," she told the class of 2023. "Now is the time to see it in yourself and in someone else. Every single one of us can and will have an impact."
Each year, LUCY serves about 500 children and teens, most between 7 and 19, who participate in an Afterschool Program, College and Career Academy, Summer Program, Haven LGBTQ+ Support Group, and more.
Prinn obtained her master's degree in social work from New Mexico State University. During her graduate studies, she worked near the Mexico-U.S. border with youngsters in gangs and immigrant families and became fluent in Spanish.
Sophia Parrish, the valedictorian of the class of 2023, also spoke at graduation. Parrish is a pre-physical therapy major (with minors in strength and conditioning and Spanish). According to Hubert Lee, the Health Sciences program director, she is the first student in the 20-year history of the department to earn a perfect GPA.
"Hop on the highway of life, but never forget to open the windows and belt your heart out," she told her classmates. "Take the detour you've been thinking of ... Stop as many times as you need to. Get out of the car, stretch your legs, breathe in the fresh air … and move forward with courage, with uniqueness, with everything that makes you, YOU."
During her years at Neumann, she was a presidential ambassador and served as a member of the Student Government, wellness educator, peer tutor, and president of the Honors Association. She was also captain of the cross country and track and field teams.
Neumann awarded one associate degree, 223 bachelor's degrees, 53 master's degrees, and 40 doctoral degrees at the ceremonies.