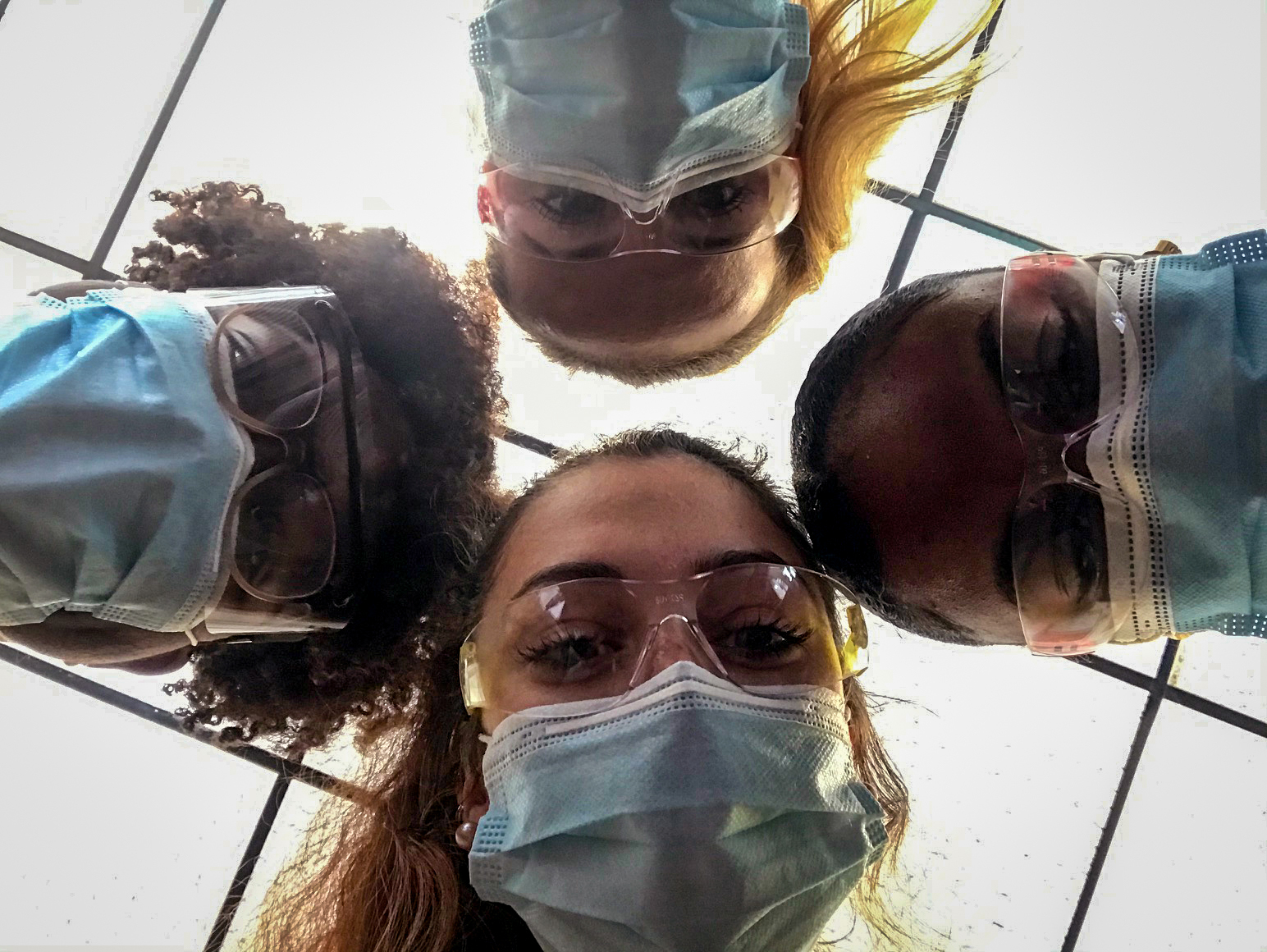 Four social work majors are currently conducting their field placement at St. Francis Hospital in Wilmington, Delaware. This experience is unique in two ways. First, having four students placed together is a rarity, and second, they are involved in a pilot program aimed to enhance patient care.
According to Rina Keller, assistant professor of social work and director of field placement, the field placement program is designed to integrate social work practice courses with field experience, providing students with the opportunity to apply their social work knowledge and professional experience. The field placement experience consists of a 10-credit field placement (500-hours) over two consecutive semesters in an approved social service setting.
"It's really intense. It goes on the students' resume as professional experience and it is a very intense portion of their education," Keller explained. "It is experiences like this that helps our students get jobs."
The four students, Rachel Albertson, Mia Cimino, Jewel Cook and Jo'Nelle Grant, are working in a variety of settings obtaining valuable hands-on experience that is enriching their learning. In addition to other responsibilities, they are part of a brand-new initiative at St. Francis which seeks to improve the patient experience. This initiative pertains to patient care and ensuring positive patient and family experiences.
Albertson and Grant are working with the patient experience program and an employee health initiative that guides hospital employees through the COVID-19 testing process. Cimino is working with Padua Academy, her alma mater, setting up student volunteer opportunities, and Cook assists with the hospital's medical outreach van in the surrounding community.
COVID-19 restrictions have drastically changed the way in which the hospital operates. Visitors are no longer allowed in patients' rooms which leads to feelings of isolation and anxiety. Albertson and Grant spend time with these patients calming their fears, answering their questions and providing an opportunity to socialize.
"People really like having us coming to talk. Even just sitting with the patient and talking awhile is something they really seem to appreciate," Albertson said. "I love that I am getting experience talking with patients in person – hearing their stories and seeing how I can help them. It's really a stressful time to be in the hospital. Even talking with a patient for 10 minutes can positively impact their day."
Grant also enjoys working directly with patients and finds it very rewarding. She is especially grateful to be at a Catholic hospital that shares NU's mission.
"I really enjoy being at St. Francis Hospital because I like working at a place that has the same values as Neumann," she explained.
The students are supervised by Melisa Miller, director of patient experience at St. Francis. In February, she and Keller began discussing the placement of the four students. Miller was planning to start the new patient initiative in August and thought the students would be a great addition to the process. But when the pandemic hit, she had her doubts that the internship program would continue.
"Rina and I had very frank conversations prior to taking on the students. They needed to be flexible, assertive, creative and they are all of that," Miller said. "The students started in September and they brought energy and ideas. They needed to help me figure out how this should be, which is exactly what they have done. My colleagues have commented on how professional and respectable they are."
Keller believes the success of this field placement can be attributed to the leadership and support that Miller has given her students.
"Melissa Miller has created an experience for these students where they feel valued and part of the organization" said Keller.