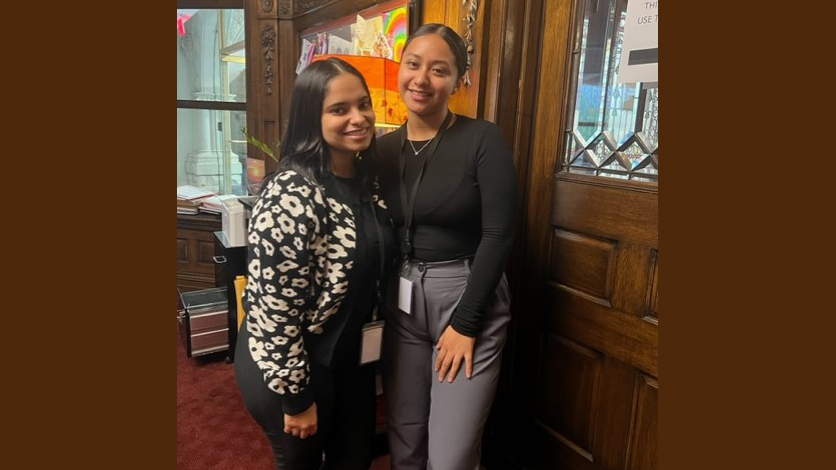 For some students, an internship is just a requirement. For others, like the Social Work majors at Ronald McDonald House, it can generate pure joy.
Ronald McDonald House Charities of the Philadelphia Region supports families on their children's medical journeys with a community of comfort and hope. It provides temporary lodging, transportation, meals, and vital supportive services to families who travel to Philadelphia for pediatric care.
Neumann students who work at the organization find the experience inspiring.
"I love my intern position at the Philadelphia Ronald McDonald House," says Darlina Chavez-Montesino, a 2023 BSW graduate who is currently pursuing her MSW at Widener. "It has been amazing to be part of a team that works collaboratively to ensure that the needs of families are met. There is a lot of joy in knowing that you were able to make a difference in someone's life."
As part of the social work team that provides emotional support and connects families to resources, she is often in close contact with Children's Hospital of Philadelphia social workers, helping families complete financial assistance applications and receive updated treatments plans for their children. Because she is bilingual, she has been able to help many Spanish-speaking families.
Senior Anett Rivera Marquez, also bilingual, is completing her yearlong practicum at Ronald McDonald House. She plans activities for the youngsters: pet therapy, scavenger hunts, bingo nights, game nights, bracelet-making, a pumpkin festival, and more.
"I love the kids I have been interacting with, and they love me as much as I love them," says Marquez.
"My supervisor is fantastic. She teaches me with such compassion and patience, and I am confident that I will gain useful experience here."
Rina Keller, director of field placement for the Social Work program, established the connection with Ronald McDonald House through Dr. Johanna Crocetto, the director of family support services for RMHC in Philadelphia. The childhood friends, now professional colleagues, are optimistic about the partnership.
In addition to Chavez-Montesino and Marquez, Keller speaks highly of Shane Marino, another 2023 graduate who interned at RMHC in the spring of his senior year. "His American Sign Language skills often came in handy," says Keller. "He was once a lifesaver in a crisis situation where a caregiver was hearing-impaired, and Johanna needed Shane to translate."
Caroline Keesee, the family programs & activities manager at RMHC Philadelphia, corroborates Keller's story. "Having interns who are proficient in ASL and Spanish has played a crucial role in communicating with our families," she recalls. "Shane was the only member on the RMHC Philly team with sign language proficiency. On one occasion, a mother was in a critical situation and needed immediate social work support. Thanks to Shane, the issue was addressed within minutes."
According to Crocetto, "Our developed relationship with Neumann's social work program offered us the opportunity to identify, recruit, and onboard Darlina to complete her master's level social work internship at RMHC. The quality education she gained at Neumann has allowed her to thrive in this fast-paced, advanced internship opportunity, and she has quickly become a wonderful resource for our families!"
When the employer and the interns are equally happy, the experience is more than a requirement. This partnership is downright joyful.