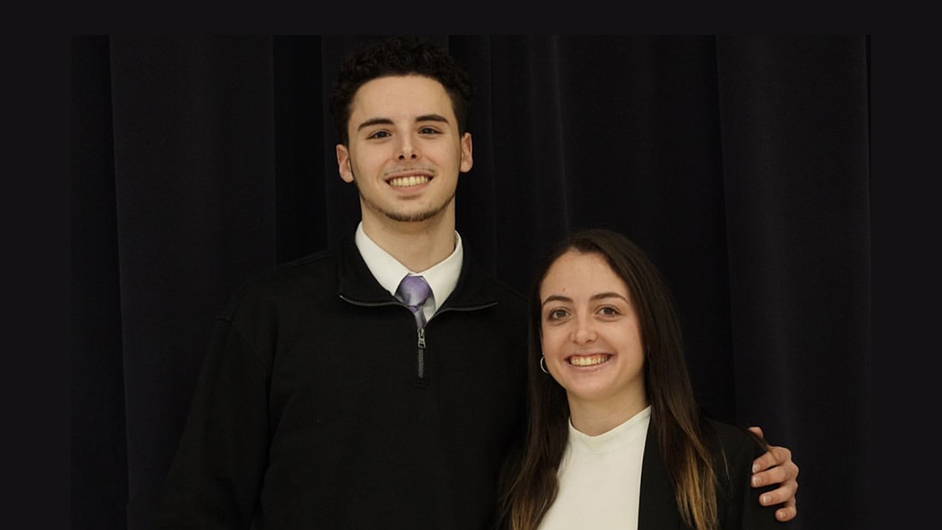 On April 20, the Sport Management senior seminar class (SM460) will present the 2023 Neumann University Sport Business Conference. SM seniors Joe Saxton and Sarah Rooney are at the helm of planning this conference, but none of it would happen without the team behind this duo.
It takes many students to pull off an event which allows attendees to network with sport industry experts and learn more about a range of sport-related topics. Dr. Julie Lanzillo started teaching this course in 2015. It was designed for students to investigate the total environment of sport management as viewed by top managers in the field. Since 2016, students have raised over $10,000 to support this annual conference.
"We're really focused on making this a group effort. We don't take too much control, and we try and find that middle point that works," Saxton said of their leadership role. "We keep things moving forward with the team. If things start to slow down, Sarah and I come in and pick up the pace."
The students in SM460 are referred to as associates. Saxton and Rooney are the presidents. Marketing associates are Liza Pellini, Matteo Anzelmo, and Bob Cohn. Finance associates are Chris Greve and Brandon Kerrigan. Sales associates are Joe Fortunato, Robert Mawhinney, Dace Bell, and Shawn Vega. Events associates are Anthony Hando, Andrew Curran, Connor Owens, and Kevin Baldwin.
"Everyone is assigned a job. Joe and I have been pretty good with quick problem-solving issues, so I'm feeling pretty confident," Rooney said of the conference.
The students have a goal of 200 attendees at the conference, but as Saxton said, "the more, the merrier."
"The associates have taken on the task of creating a different type of event this year, which has required developing a new blueprint. And they have done so with strong leadership from many of the associates, from across the various departments in the organization," said Lanzillo.
The conference offers participants the opportunity to learn more about sports business-related topics, network with professionals in the sports industry, and hear keynote speaker Dr. Karen Weaver, University of Pennsylvania Graduate Faculty and Academic Director. Weaver will discuss findings from her research and work experiences relating to NCAA changes/transformations and the intersection between college sports and higher education.
The panel discussion titled "Women in Sports" includes Ashlee Maunz, Philadelphia Union Human Resources Senior Director, Branden Lippy, Lampeter-Strasburg School Director of Athletics, Crystalrae States, EL1 Sports District Manager, and Emily DeSabito, Philadelphia Youth Sports Collaborative Program Manager for Philly Girls Got Game Initiative.
The second panel, "Behind the Action," includes Marquise Watson, The Springhill Company Client Solutions and Brand Partnership Director, Ryan Hammond, '00 Eagles Autism Foundation Executive Director, Kyle Adams, Delaware State University Deputy Director of Athletics, and Alex Yoh, Delaware Blue Coats Vice President of Business Operations.
Sports-related baskets will be raffled off at the conference, including a Mike Rozier basket, a Philadelphia Union basket, a Wilmington Blue Rocks basket, and several more.
The conference is open to high school and college students, educators, and professionals. It is being held in the Mirenda Center from 8:00 a.m. to 2:00 p.m. A catered lunch is included for all attendees. Click the link to register for the conference.
One of the class requirements is that the associates replenish the monies used to host the conference. Each year, the students leave behind funds for the following class to use as seed money to get the event off the ground. They are required to host fundraisers to support future conferences.
Some of this year's fundraisers were at local restaurants like Barnaby's, Panera, and Freddy's. Other fundraisers were a March Madness bracket contest and a Super Bowl block pool.
"Working with this group is one of my favorite projects each year, and witnessing the development of their leadership, strategic thinking, and collaborative problem-solving skills is remarkable," Lanzillo said. "They have added to an incredible eight-year legacy of the NUSM 460 associates, and the Class of 2023 should be incredibly proud. I know I am."