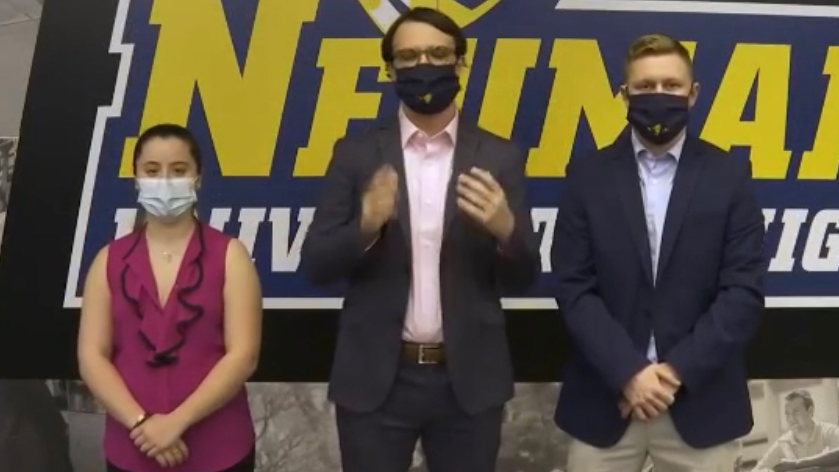 Barstool Sports founder Dave Portnoy has inspired people around the world to support his Barstool Fund, which raised more than $35 million for small businesses struggling to survive during COVID-19. His mission was not lost on the Neumann University students enrolled in the Sport Management senior seminar class (SM460). They have created their own Barstool Fund and plan on distributing the money raised to local businesses that have lent support to NU in the past.
Each spring semester, Sport Management seniors take a capstone course that is considered a workplace rather than a class. Students are referred to as "associates" and are given the opportunity to display the key skills in management, marketing, finance, and human resources that they have learned throughout the past three years at NU. Each student plays a role in planning and executing the networking event, which has grown to attract more than 100 alumni, current students, and professionals working in the sport industry. The seminar embodies Neumann's educational approach of blending theory and practice to prepare students for the post-graduation marketplace.
In 2020, this event, called A Networking Knight, made a swift, and very successful, switch to an online format. This year's event may also be virtual – with a fundraising initiative. In addition to raising funds, the students hope to still hold an in-person event, albeit small in size. They are targeting dates towards the end of April. This year's event will offer virtual meetings for participants leading up to the main session.
There are 14 students in the seminar class and each one has a specific title, serving a particular role. Three executives head up the project. Matt Dopp is the CEO, Taylor Schwandt is the COO, and Andrew Fowler is the CFO.
These three executives had to apply and interview for their positions with SM professor Dr. Julie Lanzillo. While they are at the helm of this endeavor, they are quick to give credit to their classmates for planning and executing the entire program.
"We believe everyone in our class has been working hard," said Schwandt, who hopes to land a sales job in the sport industry. "We couldn't do this without everyone in this class."
Fowler, and the team's fundraising executive, Marty Cortellessa, pitched the idea of a Delco Barstool Fund to the class. Everyone was already familiar with Portnoy's mission, and the possibility of giving back to businesses that had help the SM460 students in the past excited the group.
"We find it amazing and inspiring how Dave has been able to fund, and in some cases, literally save small businesses across the country. He put a large amount of his own money to start the fund, but most of it is ordinary people donating and it's heartwarming to see people helping people," said Dopp, who hopes to work with a professional hockey team or NASCAR.
In previous years, the SM460 senior seminar event was held at the Heritage Ballroom in Holmes, Pennsylvania. Numerous industry professionals and alumni working in the sport industry would attend and share their experiences with NU students. This platform also created a one-of-a-kind networking event.
In planning the event, the students would seek donations from local businesses and always received a generous response. So when the concept of giving back was introduced to this year's event, the students embraced it.
The students have created a GoFundMe account with the goal of raising $5,000. Sixty percent of the money raised will go to the following local businesses: Taste Budz Cafe, Slowdown Grillpub, Aston Pizza Company, Cocco's Pizzeria & Pub, Zac's Hamburgers, and Applebees Grill & Bar. The remaining funds will be used for the networking event.
"The Barstool Fund has become a great place for the average person to donate to a business that they are personally connected to. Whether it's your favorite pizza or coffee shop, or even a place you never been to but have heard about their amazing story and dedication, this platform allows anyone to donate as they please. To see how much it means to the families of each business is why we really want to help create the same joy and support to our local Delaware County businesses," said Fowler, who plans on attending grad school after he graduates.
The SM460 students know the challenges they face in achieving a successful fundraiser and pulling off an event during a pandemic, but as Dopp put it, "you don't hit a home run if you don't swing."
For more information about A Networking Knight, visit the SM460 website.