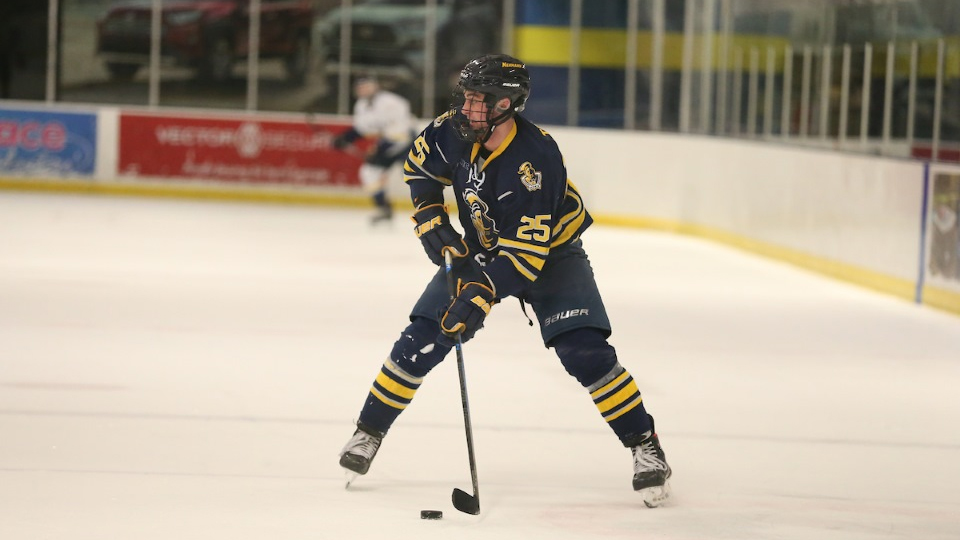 Drop the puck. Sports are about to return to campus – or at least a couple of miles away at Ice Works Skating Complex.
After the cancellation of spring and fall sports last year and basketball this winter, athletic competition is set to reappear in the form of women's and men's ice hockey. The United Collegiate Hockey Conference (UCHC) will begin an abbreviated season schedule on February 19.
Both the women's and men's ice hockey teams are scheduled to play on opening day. The women open against Lebanon Valley College at Hershey while the men lace up their skates against Chatham University at Ice Works.
Of course, these games and all others in the UCHC season are accompanied by the disclaimer that has become familiar during the pandemic: The status of each contest is contingent upon campus, local, state and federal COVID-19 guidelines at the time.
The men face a 10-game schedule (five home and five away matches) with the season finale on March 27 at home against Utica College. The women take on a 12-game season (six home, six away), also finishing on March 27. They conclude the UCHC slate against Stevenson University in Owings Mills, Maryland.
Players on both squads will be tested three times each week for coronavirus. Postseason play will conclude on April 4 with conference championship matches for women and men.
"I cannot explain how good it feels to be back on the ice with our team," says Gina McLaughlin, women's head coach. "For the returners it's been almost a year since they have played a game, and the new players are skating with all of their teammates for the first time this week. In a time where so much is unknown and different, being on the ice just feels right. It's where we are supposed to be this time of year, and that brings some normalcy back into all our lives."
"We're all incredibly grateful for the opportunity to compete again," says men's coach Kyle Mountain. "Our student-athletes have worked extremely hard and remained patient through a frustrating set of circumstances. We will continue to be presented with challenges as a group but having the support of the UCHC and Neumann makes us all feel very fortunate. Most importantly, this support will allow our student-athletes to pursue their passions and represent our school competitively. We can't wait to get started."
Ice Works is operating at 50 percent capacity (with social distancing) and requires that masks be worn by spectators.
In its fourth season, the UCHC includes Alvernia University, Chatham University, Elmira College, King's College, Lebanon Valley College, Manhattanville College, Nazareth College, Neumann University, Stevenson University, Utica College, Wilkes University, and William Smith College.
Most of Neumann's teams play in the Atlantic East Conference (AEC), which officially canceled competition in fall and winter sports on January 22. The decision was made by the AEC Presidents' Council and athletic administrators.
Part of the official AEC statement, however, provided some flexibility for individual colleges: "The conference office and institutional leaders have agreed upon allowing institutional autonomy to schedule competition at their discretion. Activities are not limited by the conference, and may include practices, strength and conditioning, inter-squad events, and intercollegiate contests where safe to do so."