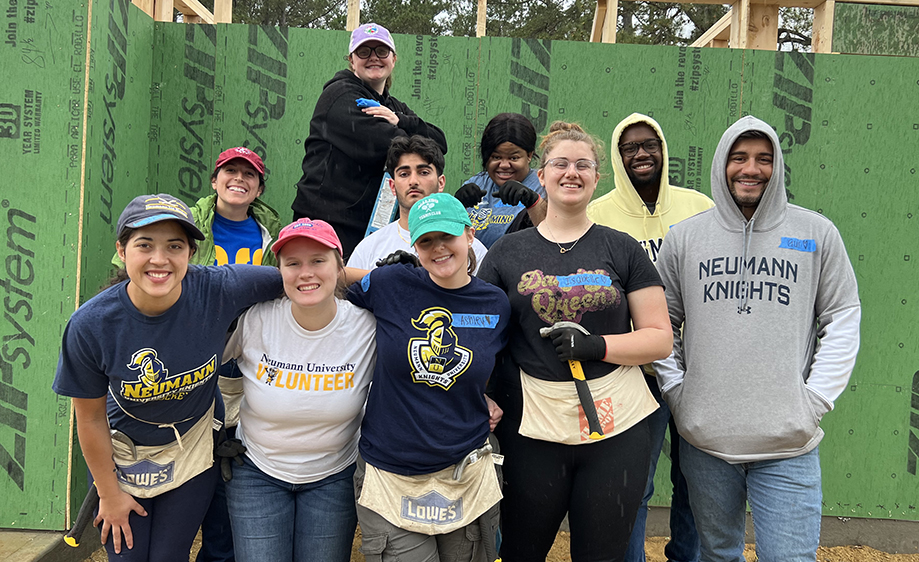 Eight students traveled to North Wilmington, North Carolina, over spring break to participate in the Habitat for Humanity Collegiate Challenge with members of the Mission and Ministry department. The week was filled with much more than just manual labor as the students formed bonds with God and each other.
Habitat's Collegiate Challenge program provides year-round alternative school break volunteer opportunities to college students across the United States. The team was led by Guilherme Lopes, director of campus ministry, and Jill Tutak, assistant director of campus ministry.
The Challenge designates one project that various college students will work on for a specific period of time. The NU students were the first group to work on their project, building a home for Gloria, a single mother of two young daughters, who was born in Columbia and immigrated to the U.S. as a child.
Sophomore Ashley Neff felt meeting Gloria made her think the work she was doing mattered.
"It was nice to get to meet her. She was so excited and so grateful for what we were doing," Neff said.
The group started working in a warehouse, building the frames for the house's walls, windows, and doors. On day three, the students brought these frames to the job site and began to put them in place.
"What is so beautiful about this program is that there's a group of professional contractors in addition to the Habitat staff that map out exactly what needs to be done. They spend a lot of time ensuring safety and going over protocol. It's very educational for the students," Lopes said.
The students varied from freshmen to graduate students with majors ranging from Social Work and Biology to Accounting and Business.
Isabelle Zappacosta, a freshman who transferred to NU in January, signed up for the trip the minute she heard Lopes speak about it during orientation. She welcomed the opportunity to help others, give back, and make new friends.
"I wanted to go on some type of trip like this for a long time, and I took the opportunity," she said. "I have what I call the 'It can't be that hard gene.' I'll jump into just about anything. I would do it again in a heartbeat. It was great."
Neff and Zappacosta agreed that they gained so much from their experience working with Habitat for Humanity. They grew spiritually, made new friends, and learned how to build a house.
"I now know all the different types of nails and cuts of wood," Neff said with a laugh.