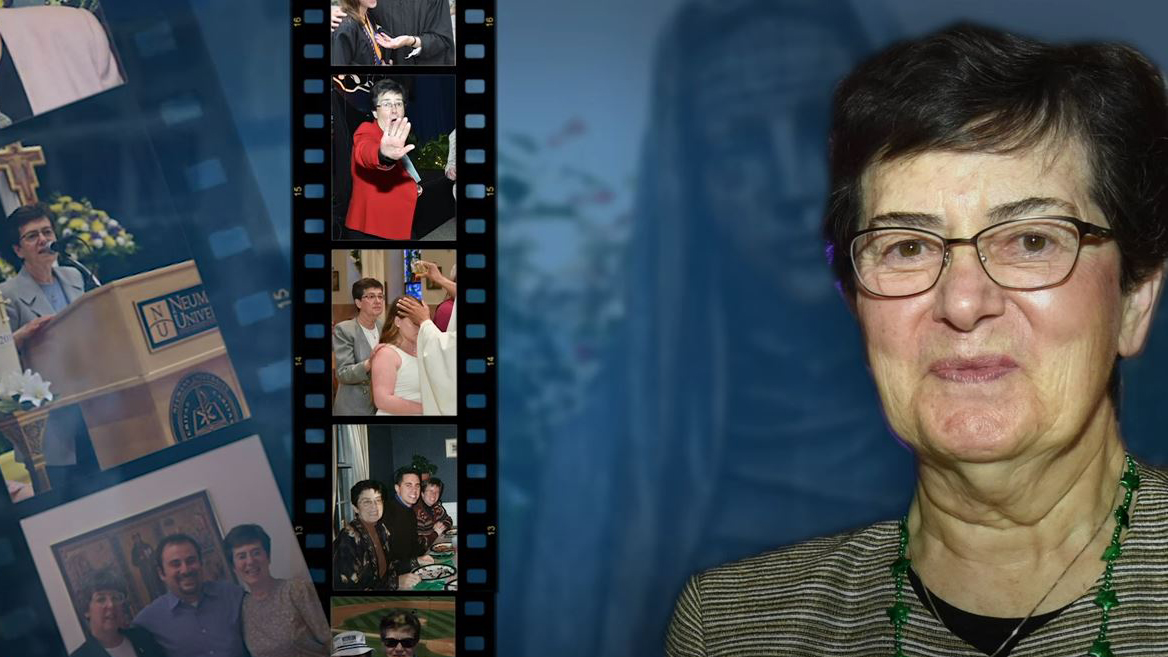 Whoever said, "All good things must end," clearly was not referring to Sr. Marguerite O'Beirne's love for Neumann University. While this vice president of mission and ministry may be stepping away from her office, she will not be stepping away from her beloved students. ​​​​​​​
Sr. Marguerite will officially retire on July 1, 2021. After nearly 50 years in Catholic education administration, she has decided to leave her managerial duties and focus more on continuing her support of Neumann University students. (Watch Neumann Media's video about Sr. Marguerite's life.)
"I believe there comes a time when you feel like it's a good time to leave while you're still engaged and committed. I've learned in my administration classes that the best time to leave is when you're not worn out. I'm tired of administration and I feel that my skills could be used in another way," she said of her future volunteer efforts.
In 1996, Sr. Marguerite came to NU from McCorristin Catholic High School, now Trenton Catholic Academy, where she was the principal for 12 years. Prior to this post, she was the coordinator of education for the Sisters of St. Francis, a job that took her up and down the East Coast visiting Catholic schools.
Those travels pale in comparison to the one Sr. Marguerite took in 1958 when she journeyed from her home in Ireland to the United States. She was 16 years old.
Growing up in Cloonloo, County Sligo, Ireland, as the oldest girl in a family of six children, Sr. Marguerite's first interaction with the Sisters of St. Francis was in high school.
"I had an attraction to the Sisters. They were very influential in my early life. I felt a call to give my life in that way for the good of others," Sr. Marguerite explained.
According to Sr. Marguerite, there was a great need in the 1960s to staff Catholic schools and hospitals in the United States. When she first joined the order, she spent time at the House for St. Francis in Ireland preparing for her new life across the Atlantic Ocean. At the age of 19, she was teaching second grade in the States.
Sr. Marguerite holds Saint Francis of Assisi in high regard and admires his deep respect for the dignity of human life and his care for creation. The fact that Neumann University carries on St. Francis's beliefs and has made them the central point of our RISES values is a point of pride for her.
"I believe that our point of difference is that we are a Catholic institution in the Franciscan tradition. This very much is needed in our society today," she said.
Sr. Marguerite has complete confidence in the group of administrators and staff she leaves behind in the mission and ministry department. She says, "Our unit is very, very strong and people will carry on the mission and the Franciscan chasm of the institution."
And it is with that confidence that she steps down as the unit's vice president and returns to her homeland - for a brief respite.
"It's always nice to go home. I love Ireland. It's wonderful and it recharges my spirit,"
Sr. Marguerite plans to stay in Ireland for the month of July and then return to campus and settle in as a champion, cheerleader, role model, and mentor to the students.
"I'm very grateful to Dr. Domes because he invited me to stay on here. I have a strong, strong commitment to our students and how I can be a help to them," Sr. Marguerite said. "I have been very blessed with the opportunity to serve, especially serve our students. That's where I get my energy."