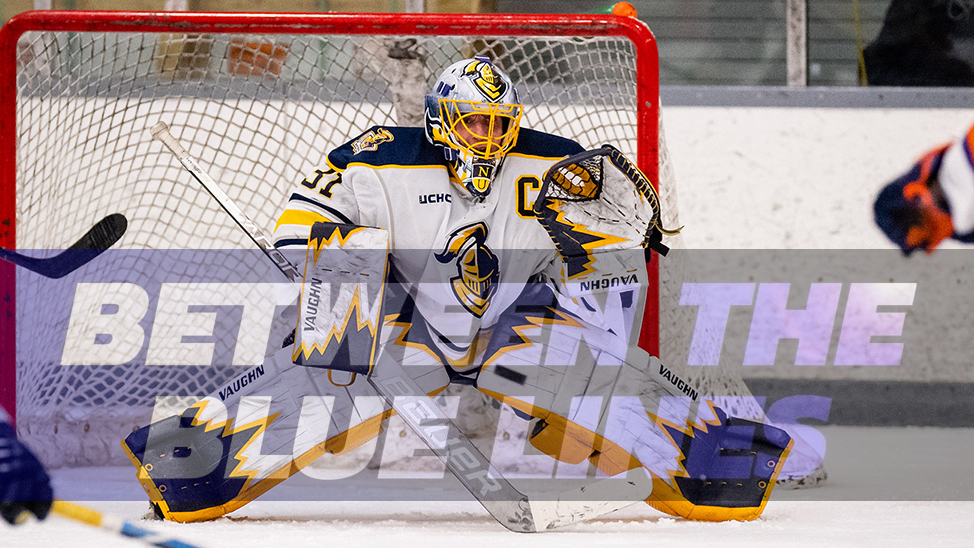 Neumann Media may soon be adding another Emmy Award to its list of accomplishments, thanks to a student-produced documentary series titled Between the Blue Lines. The series tracks the Neumann University men's ice hockey team through the course of their 2021-2022 season, highlighting the life of a college athlete.
The National Academy of Television Arts & Sciences announced the nominations for the 40th annual Mid-Atlantic Regional Emmy Awards on August 9, 2022. The fifth and concluding episode of Between the Blue Lines was nominated for a Student Production Award in the Long Form category. Other schools nominated in the same category include Temple University and Penn State University.
This five-part documentary exposes the many emotions these young men faced returning to the ice after COVID severely restricted the sport they all love so much. However, this story has many levels of inspiration, not all relating to the players.
Recent graduate, and 2022 valedictorian, Jake Loburak, was the mastermind behind this project, using it as his senior seminar piece. The project took eight months to film. It begins with how the ice hockey players dealt with the COVID shutdown and continues to follow the athletes as they return to the ice as a team.
"I had wanted to do a documentary since I was a freshman. I knew it was a daunting task, but we put together a phenomenal crew," Loburak said.
In the planning stages, he realized that he needed a team to help create the series. He reached out to his fellow CDM majors but also sought to connect with a team member. Enter team goalie Kyle Pantalone.
Pantalone was a senior when he started discussing the project with Loburak. Even though he was majoring in business administration and finance, Pantalone starred in the documentary, became the producer and editor, and provided voiceovers. Pretty impressive for a guy who had never taken a communications course while at Neumann.
"I learned on the fly, and it was really neat to be a part of this. What we ended up with was truly awesome and a masterpiece. As a player, to have a say in the production part was incredible," he said.
Loburak agreed with Pantalone. "I said to Kyle that if we're going to do this then we're going to do it right. I think we did a really good job of telling the story of the team. In the end, I knew it was a well-done piece."
Loburak also credits the ice hockey coaches and all the players for embracing this project from the start. They allowed him and his crew access to any part of the sport that they desired. According to Loburak, the team plans on using this documentary as a recruiting tool.
Sean McDonald, director, Neumann Media, was the first to learn of the documentary's nomination and beams with pride when talking about the students responsible for this production.
"I'm so incredibly proud of these students, especially the students who are not in the CDM major. I tell every student that these skills are important no matter what you're studying or what you're planning to do with your life. Being able to tell a compelling story will always make you stand out, no matter your background. These students proved it and are now being recognized for their work," he said.
The six NU students who produced the documentary are:
Jake Loburak, Editor, Executive Producer, Videographer - CDM graduate
Kyle Pantalone, Producer, Voice-Over, Editor – Business Administration & Finance graduate
Xavier Kanis, Director of Photography, Voice-Over – CDM graduate
Sean Mack, Director of Photography – Sophomore CDM major
Maddie Taylor, Videographer – Education Studies graduate
Michael McCrossin, Team Photographer – Senior CDM major
"While I was aware that this project was happening since the fall of 2021, I didn't really see any of it until the final edits were being made. When Irv (Levine, video coordinator) and I watched the first episode, our jaws dropped. We looked at each other and said, 'There's no way that college students should be able to produce something this good. It belongs on Netflix,'" said McDonald.
Here's to hoping that the judges feel the same way!
The award ceremony will be held at a banquet on October 1, 2022, at the Loews Hotel in Philadelphia. Watch all five episodes of Between the Blue Lines.