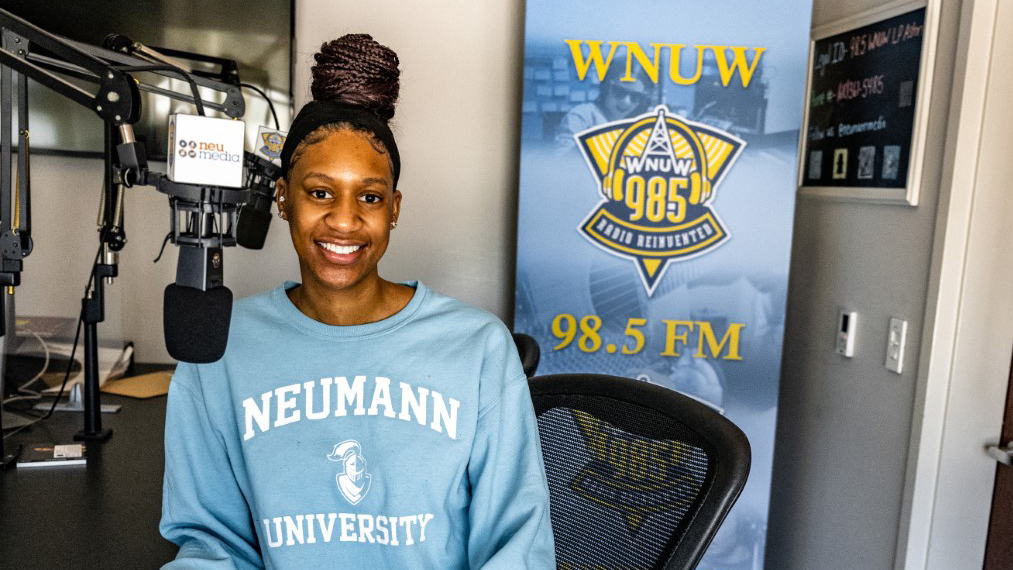 Are you woke? Shanice Boyd is, and she's on a mission to make others as aware of injustice as she is. The junior hosts Stay Woke, a weekly 98.5 WNUW radio program to educate listeners about instances of bigotry and racism.
"I want people to be aware of what the Black community goes through," says Boyd, a Communication and Digital Media major. "Listening to the show on a small campus could inspire you to give a piece of your heart to do something."
The Oxford English Dictionary, which added the word in June 2017, defines "woke" as "alert to injustice in society, especially racism." Merriam-Webster agrees, defining the word as "aware of and actively attentive to important facts and issues (especially issues of racial and social justice)."
While the origin of this use of the term can be traced to the 1930s and 1940s, the first mainstream appearance of "woke" as a reference to racial injustice seems to be in an article entitled "If You're Woke, You Dig it" by William Melvin Kelley in The New York Times in 1962. The popularity of the term has increased in the last decade, sparked by a sequence of incidents that brought attention to the treatment of young Black Americans by police.
Boyd's show, which airs every Monday from 12:30 to 1:30 p.m., applies the dictionary definition to actual events. "Every Monday I dedicate my show to a different Black American that was wrongfully accused, wrongfully convicted, or wrongfully murdered by law enforcement. I begin by explaining who the person was and the events that led to the outcome of their fate."
After a brief break for one or two songs, Boyd dives deeper into each story, mentioning "their family and their response to the incident along with social media's response and the public's input as well."
Using skills that she has learned in the CDM program, Boyd strives to maintain solid journalistic standards. "I research all information from multiple credible sources to make sure everything I say is accurate. The goal is to make students at the university aware of what has happened even if it is not televised or posted anywhere."
In the fall, Boyd focused on well-known cases, including those of Breonna Taylor and George Floyd. This semester, she has been researching incidents that are less widely known, such as the killing of Elijah McClain in Aurora, Colorado, and Walter Wallace in Philadelphia.
She was inspired to create the show at a peaceful protest about the death of George Floyd, which she attended in Philadelphia in June 2020. She intends to continue Stay Woke in her senior year.
"This one is sticking," she admits. "There are plenty of stories. I won't be done this year."
Boyd is grateful to the CDM major and Neumann Media for the opportunity to get on the air. "I love Neumann. I developed my passion for radio here."