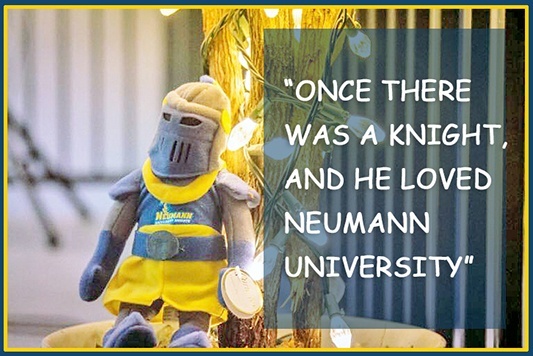 Neumann's 2017 Day of Giving raised $127,968 for a variety of campus causes, and two students played a major role in the success of the philanthropic campaign.
Tara DiCarlo and Emily Taraborrelli created the concept for the initiative: a knight with a giving tree in the background next to the campaign slogan, "Once there was a knight, and he loved Neumann University."
The inspiration for their idea is The Giving Tree, a 1964 children's book by Shel Silverstein that begins "Once there was a tree ... and she loved a little boy." The book is about the gift of giving and the capacity to love. Tara and Emily recall the moment when they thought of the concept simultaneously. "It was telepathic," says Emily.
The Communication and Digital Media majors, both graduates of Cardinal O'Hara High School, took up the challenge of creating a promotional concept for the university's Day of Giving in the spring semester as part of an assignment in their Multimedia Design class. Although they did not get top honors in the class project, they won the hearts of annual giving professionals Christina Farrell and Kimberly McDermott, who adopted the image and slogan for the October 5 Day of Giving at Neumann.
The money was raised from 512 donors after an intense campaign that combined direct mail with online and social media efforts to generate awareness about the event. Donors, alumni, students and others had the option of giving to a variety of specific causes: the annual fund, scholarship fund, athletic fund, service immersion trips, the Institute for Sport, Spirituality and Character Development, and the 2018 class gift.