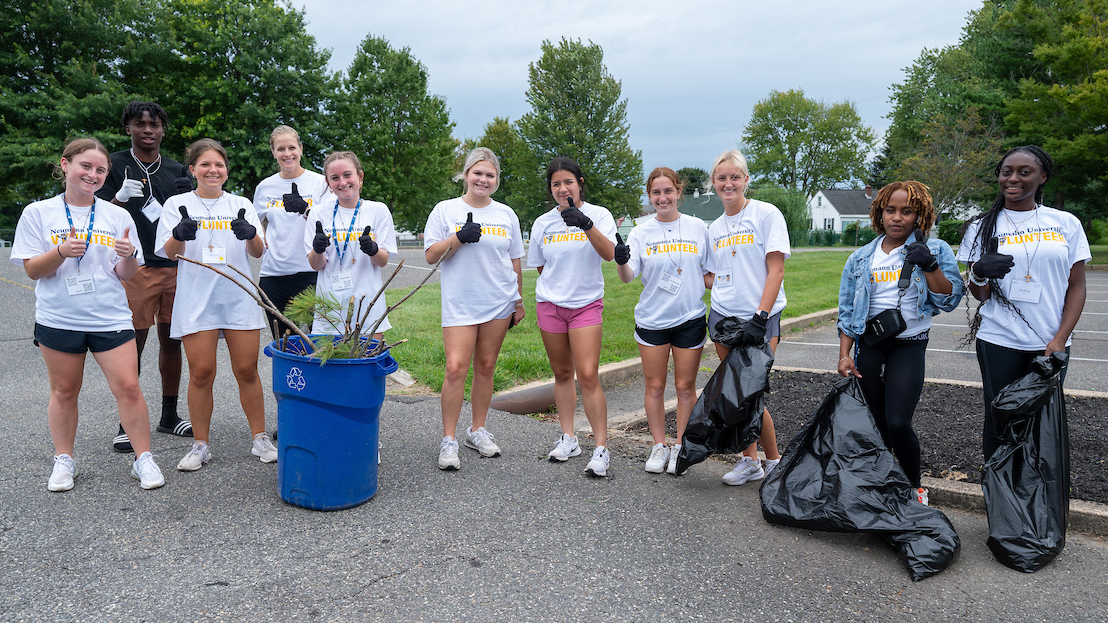 One day after they moved into residence halls, more than 380 first-year students flooded local organizations, schools, and charities to provide a day of service to the community.
At 8:30 a.m. on Thursday, August 24, students packed into the Mirenda Center to learn their destinations, meet their faculty/staff facilitators, and load buses and vans for a day of helping worthy causes.
Contributing 860 hours of community service, they tackled projects like cleaning, painting, and yard work for Cradles to Crayons, Drexel Neumann Academy, Heart of Camden, Pathways PA, Ronald McDonald House, Mt. Hope Methodist Church, Rags 2 Riches Animal Rescue, and other local organizations and nonprofits.
The day of service is part of Welcome Weekend for both commuters and residents at Neumann. The activity is in keeping with the university's Franciscan tradition, which emphasizes service to others. Part of the university's mission statement, in fact, is that "knowledge is a gift to be used in the service of others."
"'Preach the Gospel at all times. If necessary, use words.' is a statement attributed to St. Francis," explains Sr. Kathy Dougherty, Neumann University vice president for mission and ministry. "As a Catholic university in the Franciscan tradition, we spread the love of God through serving our brothers and sisters. The day of service for new students is essential. It reflects our belief that all is a gift from God and our gifts are intended to be used for the good of all."
On the same day, students attended their first college class, The Neumann Experience (INT 101), and discussed the importance of volunteerism and community service.
INT 101 is a required, one-credit course that explores the meaning of learning and education in the context of Neumann's philosophy and mission. Course content focuses on self-motivated learning, values clarification, critical thinking, student-faculty communication, time management, and learning techniques.
View the photos and video recap below.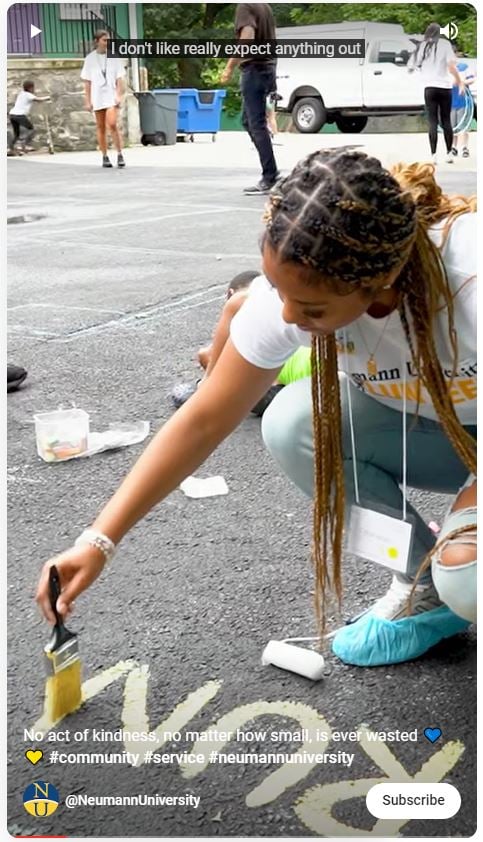 Watch the recap video reel