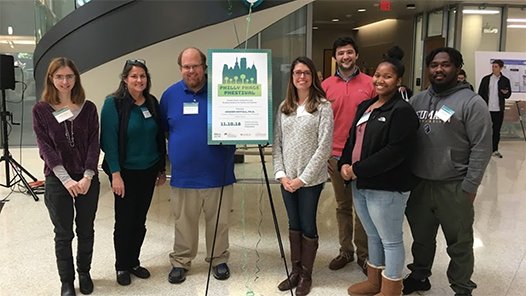 It's been almost two years since Neumann University became a SEA-PHAGES (Science Education Alliance-Phage Hunters Advancing Genomics and Evolutionary Science)  institution  in the Howard Hughes Medical Institute  (HHMI). And in that short period of time, Neumann biology majors have accumulated an impressive list of accomplishments.
Since the fall of 2018, sophomore, junior and senior biology majors have been able to  enroll in a two-semester, discovery-based undergraduate research course  where students learned to isolate and identify bacteriophages, viruses that attack bacteria,  and had the opportunity to have their research published in national venues before the end of their junior year, making them highly competitive for  industry jobs after graduation.   Students have also been introduced to various methods to isolate bacteriophage and the use of computer systems in a bioinformatics (computational) class. 
The first part of the course is referred to as the "wet lab" and will have students digging in the soil on campus to find new viruses by using a variety of microbiology techniques. The second part of the course, the "dry lab," will have the students perform different computational analyses including complex genome annotation with bioinformatics software.
Students, while enrolled in the class at Neumann, have isolated 17 bacteriophages in two years.
In 2019, students annotated, or identified, two genomes within the bacteriophages, and currently, students are working on annotating four genomes in the bioinformatics class.
Students have also published nine abstracts/posters (three at Neumann and six in collaboration with Cabrini University).
Dr. Matthew Mastropaolo, assistant professor of biology and champion of the SEA-PHAGES program at Neumann University, has also been a part of 10 faculty genome annotations projects between 2018 and 2019.
In addition to the accomplishments above, Mastropaolo said he "tries to teach students they are responsible for all of their own work," adding, "if you make a mistake, you have to start over." After all, that's the way it is in the real world.
It appears that Mastropaolo's lesson is sticking.He noticed this semester that by the third week of class, students were asking each other questions instead of the professor. They were teaching each other. The students have become more self-sufficient and gained confidence in class. The lab becomes like a supportive community. "That's what science is supposed to be," said Patricia Fallest-Strobl, professor of biology.
As more is known about phages, viruses that attack bacteria, there may be beneficial potential for treating humans.  Research with phages to treat human bacterial diseases was abandoned long ago with the rise of antibiotics. With the recent increase of drug-resistant bacteria, however, phages are receiving more scientific attention for possible medical uses.  
The HHMI is a science philanthropy whose mission is to advance basic biomedical research and science education for the benefit of humanity. ​​​​​​​
It is the hope of the HHMI that the SEA-PHAGES  program increases  undergraduate interest and retention in the biological sciences through immediate immersion in authentic, valuable, yet accessible research. By finding and naming their own bacteriophages, students develop a sense of  project ownership  and have a ready-made personal research project at a fraction of the cost of traditional apprentice-based research programs.