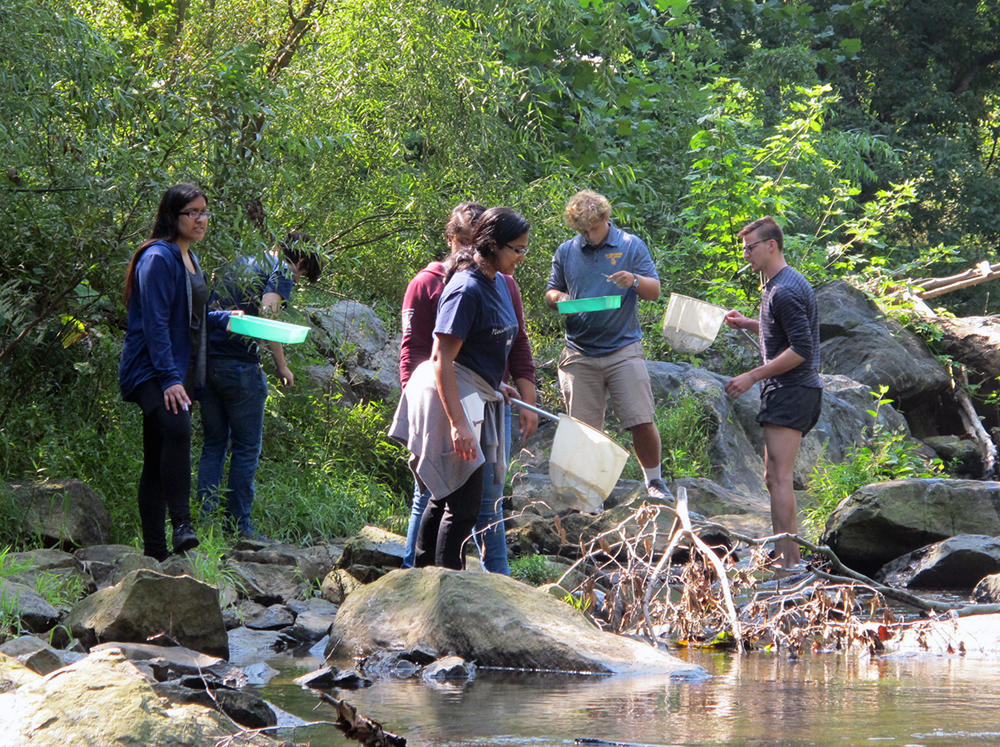 According to a study conducted by Dr. Mac Given, a biology professor, a May 2017 spill of drilling fluid that was related to construction of the Mariner East 2 pipeline has not affected the larval insect communities in Chester Creek.
Students in Given's Ecology Lab have been monitoring the water quality of Chester Creek for more than a year to assist with future evaluations of the environmental impact of the Mariner East 2 pipeline. "We are making monthly collections to establish a control data set," Given explains. "In the event of any environmental damage to the watershed, we will have baseline data, under 'normal' conditions, with which comparisons can be made."
The first paper reporting on this research, entitled "Macroinvertebrate Analysis Upstream and Downstream of the 2017 Sunoco Logistics Drilling Fluid Spill in Chester Creek, Delaware County, Pennsylvania," was published in the Proceedings of the Delaware County Institute of Science in December 2018.
In this study, Given explains that the Sunoco Logistics' Mariner East 2 project consists of two welded steel pipelines that will transport ethane and butane across Pennsylvania, transecting Delaware County, to marine terminals located in Marcus Hook.
"This project has generated much concern regarding environmental impacts related to construction and the consequences of failures, such as leaks, once completed," he writes. "In Delaware County, these concerns were heightened in May 2017 when drilling fluid, consisting of bentonite mud, was accidentally released into Chester Creek. Five-hundred gallons were spilled on 3 May, 30 gallons on 4 May, and 75 gallons on 10 May. While bentonite is non-toxic, it causes sedimentation which can negatively affect aquatic organisms and water quality."
In the aftermath of the accidental release of approximately 600 gallons of drilling fluid into Chester Creek in May of 2017, Given's findings indicate that habitats upstream and downstream of the spill have good water quality and that "there were no obvious differences between the upstream and downstream sites."