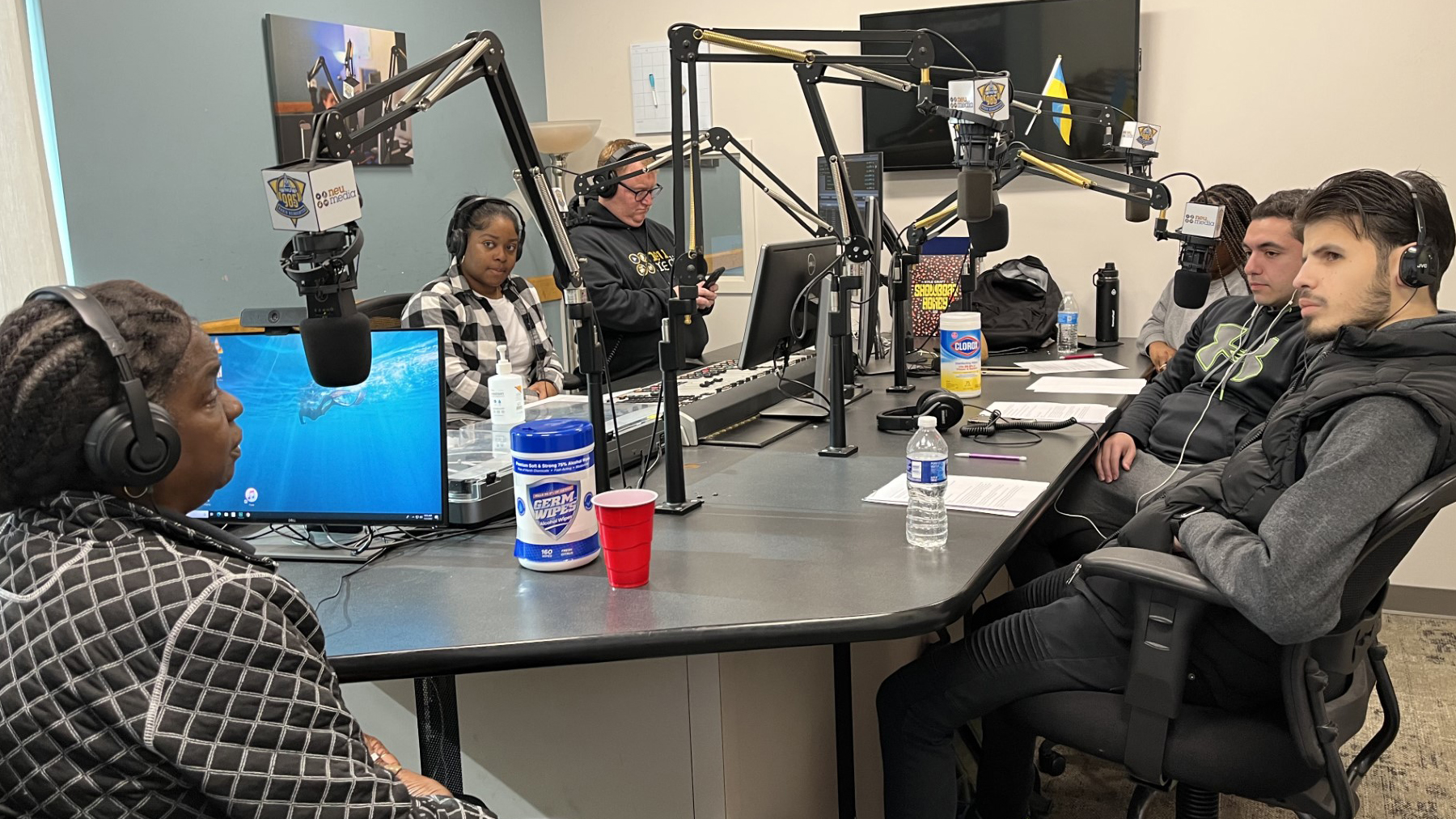 Neumann students won two national awards for journalism, including Best Collegiate Radio Show, in a contest sponsored by the Catholic Media Association (CMA).
A group of nine students took home the radio prize for a program entitled Living Black History that was broadcast on WNUW 98.5, Neumann's radio station. Four students interviewed Regina Paige Garrettson, a member of the university's dining hall staff, about her life experiences stretching back to the 1960s. Five other students produced the show from the studio control room.
Garrettson spoke about growing up in the projects of Bedford-Stuyvesant in Brooklyn, NY (with "a sense of community and togetherness"), moving to East Orange, NJ (where she first realized that her family was poor), her marriage and career, and moments in the Civil Rights movement (the celebrity of Bobby Seale and the Black Panthers).
Regarding the current state of social justice in America, she asked, "How far have we come? We went back."
Tyler Hauser, one of the student interviewers, explained that the purpose of Living Black History was "to bring you the past experiences of those you won't find in textbooks or on TV."
According to Janis Chakars, the professor whose students produced the show, "Our goal was to improve the media, to do better, always in conjunction with two basic tenets of Catholic social teaching – affirm the dignity of every individual and show solidarity with the oppressed."
Students selected Mrs. Garrettson as their guest, wrote the questions, and conducted the interviews. Other student interviewers were Jailah Johnson, Christiani Joseph, and Michael Marano.
CMA judges described the show as "a beautiful example of journalistic talent," adding that "The use of personal narrative to tell a compelling and timely story on a very pertinent topic is so well done here."
A second-place award for Best Article on Social Justice went to Gia Marcinkowska, who wrote a profile of Dr. Michelle Santana, Neumann's former chief diversity officer. The article was published in NeuPress, the university's online student newspaper.
Judges called her article a "flowing story that brings together a woman on a mission and a university that provides the means for her to fulfill that mission through creation of a Diversity, Equity and Inclusion council."
CMA's St. Juan Diego Collegiate Awards recognize excellence in journalism and communications by students and alumni of Catholic colleges and universities. The awards honor media that embodies goodwill, compassion and uplifting spirit.
The winners were selected from 100 entries in various categories, including design, writing, photography, broadcast, and digital media. The entries were judged by professional journalists and communicators from CMA's membership, who provided constructive feedback to the participants.
Judges work for St. Anthony Messenger Magazine, the Roman Catholic Archdiocese of Washington, the Milwaukee Journal Sentinel, Marquette University, Catholic New York, and other organizations.
Winners are listed in annual Awards Issue of The Catholic Journalist and are acknowledged at the Catholic Media Conference, scheduled for June 6-9 in Baltimore, Maryland.
The full list of winners is on the CMA website: catholicmediaconference.org/collegiate-awards.
Listen to a recording of the Living Black History show.