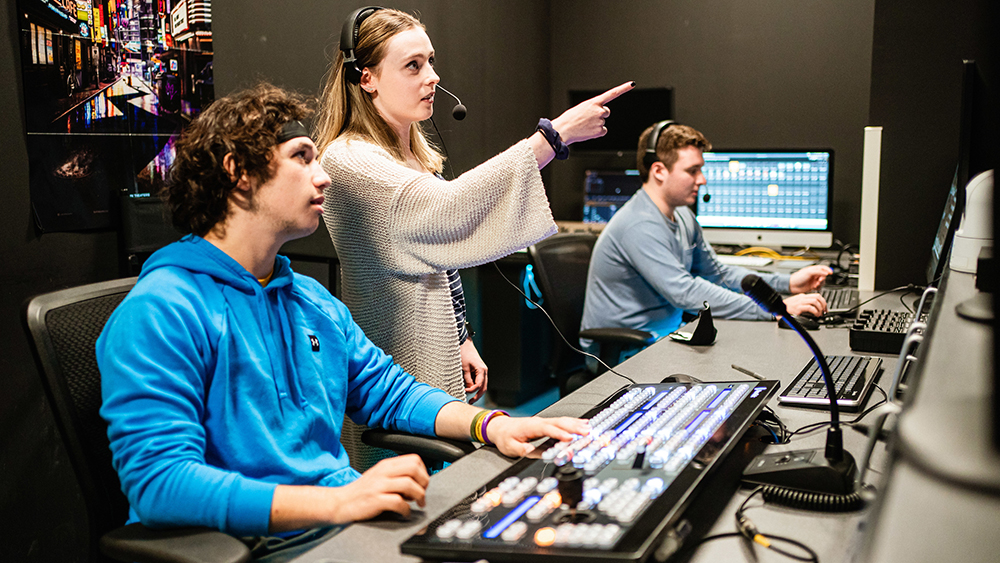 Since 2016, Studio Day has offered a drop-the-mic experience for high school students interested in broadcasting and communications. The annual event invites them to use state-of-the-art professional technology in the John J. Mullen Communication Center.
Set for Saturday, February 26, from 10 a.m. to noon, Studio Day is designed to maximize hands-on experience in the university's multimillion-dollar television and radio studios. Students can use a teleprompter to report from the news desk, forecast weather in front of a green screen, or manage a broadcast from the control room.
Students will also meet three experienced media professionals, who will discuss both on-air and behind-the-scenes careers in broadcasting and journalism:
Marisa Magnatta, producer and digital content director of The Preston & Steve Show on 93.3 WMMR
Casey Boy, executive producer of The Preston & Steve Show on WMMR
Leigh Pullekines, EMMY Award-winning director for NBC10 and adjunct faculty member
Neumann professors will explain the three tracks of the university's Communication and Digital Media (CDM) major and discuss the many internship opportunities with media giants in the Philadelphia market. This year, five CDM majors have landed real, part-time jobs working in Philly radio and TV.
"One of the features of this major that students love is that they can start using all this technology from their first day on campus," says Sean McDonald, director of Neumann Media, which includes 98.5 WNUW, NeuPress, Neumann Sports Network, and NeuTube. "Our industry connections and the fact that our students learn from professionals who are still in the field sets us apart from other institutions."
Neumann's CDM majors have won Student EMMY Awards, College Broadcasters, Inc. Awards, and scholarships from the Broadcast Pioneers of Philadelphia. Neumann Media has also become the official streaming partner of The Preston and Steve Show, a relationship built over years of CDM students producing the video for Preston and Steve's Camp Out for Hunger, the largest food donation drive in the country.
To register for Studio Day, visit www.neumann.edu/StudioDay