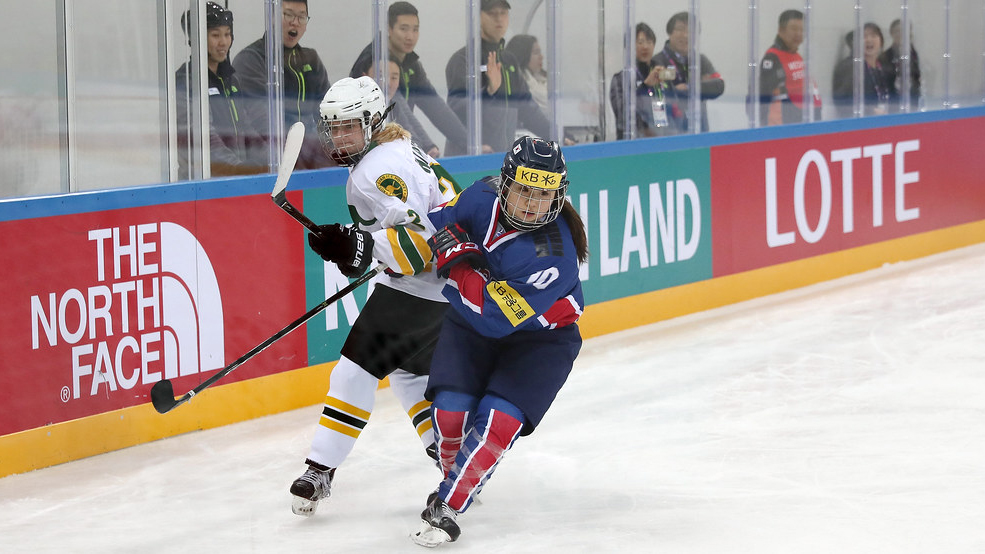 When the puck dropped at Madison Square Garden on February 28, two Neumann University alums were on the ice refereeing the first women's professional ice hockey game played at the iconic venue. Chelsea Ward McIntosh '08 and Brie Ward Zdunkiewicz '05, former NU ice hockey players, have reffed at numerous rinks but stepping on the ice at The Garden was the pinnacle of their careers.
The Ward sisters are from Willingboro, New Jersey, and now reside in Mount Holly (Chelsea) and Burlington (Brie). Ice hockey brought them to Neumann, a sport that they began playing when they were young girls. The duo actually started out on the ice as figure skaters. They asked their father, a former ice hockey player, if they could switch from figure skating to hockey and he told them to give it a shot. They laced up another type of skates, and never looked back.
The duo are seasoned ice hockey referees. They have worked their way up from officiating junior ice hockey teams to professional games. The game at MSG was between teams from the Professional Women's Hockey Players Association (PWHPA). It was a showcase game for the association whose mission is to promote, advance, and support a single, viable professional women's ice hockey league in North America.
For Chelsea, it was the first time she had ever been in The Garden. "It was very exciting and cool to see such a legendary place," she recalled. "It was almost breathtaking," Brie said of being on the ice at MSG.
While at Neumann, the sisters shared the ice for one semester before Brie graduated. Chelsea also played field hockey and lacrosse. Playing sports, specifically ice hockey, was a huge draw for these women to come to Neumann.
"I didn't intend to play hockey in college, but the Neumann coach got wind of me and encouraged me to come. The opportunity to play ice hockey sold me on Neumann," Brie, who went on to get her doctorate in physical therapy, said.
The Ward sisters do not get the chance often to work together on the ice. But when they do, the closeness they share as sisters enhances their on-ice communication. In an ironic twist, it was Chelsea who brought Brie to the sport and it was Brie who brought Chelsea into the refereeing world.
These women refs travel within a five-hour radius to officiate games. They go from Boston to Washington, D.C., from Hershey to Rochester. Chelsea has officiated Neumann University women's ice hockey games, and Brie hopes to get that same opportunity someday in the near future.
Chelsea, who is a program manager for research at CHOP, is also very involved with the administrating side of women's ice hockey. She is the women's officiating coordinator for the Atlantic District.
"It's been a driving force for me to give back to the sport that I love so much," said Chelsea.
Being back on the ice is thrilling for these former players, but they agree that there is definitely a difference in skating as an athlete and skating as a referee.
"It's more intense than playing. You don't get the mental break and it's intense," explained Chelsea. "The skating is about the same as the players, but then you need to be ready for a high-speed sprint. It really is about being ready to go at any moment."
Both women hope to see the day when the National Hockey League (NHL) uses women referees to officiate games. Last year, four female referees were invited to the combine – a scouting event held by the NHL. Chelsea sees this as the first step in the right direction to have women refs in the league.