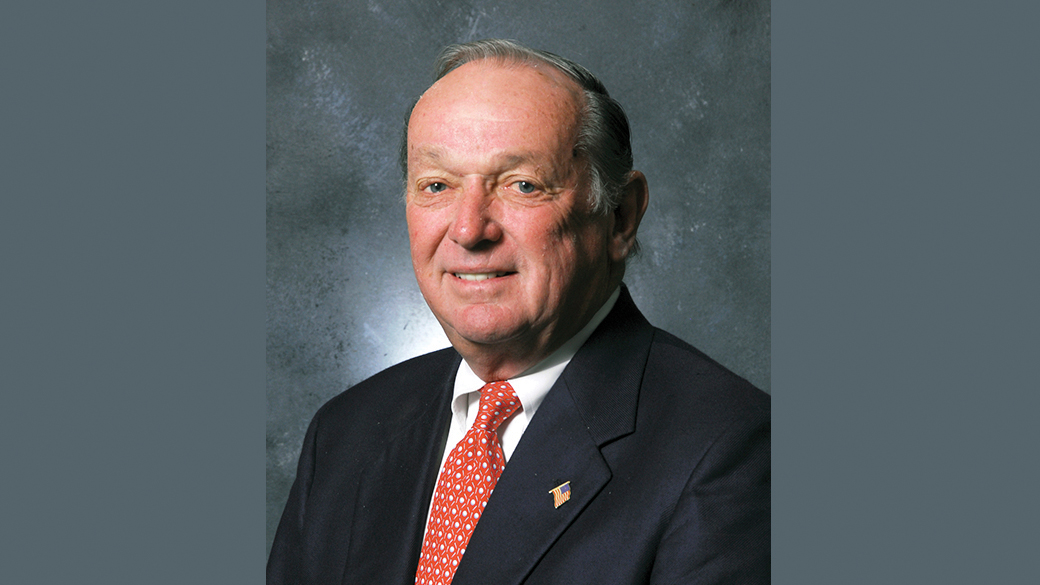 Tom Bruder, a long-time benefactor of Neumann University and a champion for Catholic education, passed away on January 24, 2022. Mr. Bruder has served on the Neumann University Board of Trustees since 1971. He was a former member of the development committee and the trustee committee. Mr. Bruder owned M.A. Bruder & Sons, Inc. (M.A.B. Paints) and retired as president in 2007.
Mr. Bruder and his family have generously donated more than $1.7 million to Neumann University. In 1985, the Thomas A. Bruder, Jr. Life Center, housing the Bruder Gymnasium and the Meagher Theatre, became the third building on the Neumann College campus. In 2008, he was appointed a Lifetime Trustee by the N.U. Board of Trustees. The Bruder Athletic Fields were named in his honor in 2012.
"Tom was a Trustee, supporter, benefactor, and friend to Neumann University and the Sisters of St. Francis. His leadership and support over the years for Neumann cannot be underestimated. Tom was a humble and generous person who will be deeply missed," said Dr. Chris Domes.
Mr. Bruder was born in Philadelphia, where he attended the St. Francis of Assisi School, Waldron Academy, and Malvern Preparatory School. He graduated from the University of Notre Dame in 1959 and served in the United States Army National Guard.
At the age of 31, Mr. Bruder became president of M.A.B. Paints. Along with his two brothers, he managed the business for 40 years, growing the company from 18 stores and one manufacturing plant in the Philadelphia region to 132 stores in 14 states and three manufacturing facilities in three different states. His family sold the business in 2007.
In addition to serving Neumann University, Mr. Bruder also devoted his time to Fitzgerald Mercy Hospital, Riddle Hospital, Main Line Health, Malvern Prep, The Maxwell Football Club, the University of Notre Dame, and Villanova University.
"He was a generous friend of Neuman University sharing his time, talent, and treasure. May he rest in peace," said Sr. Esther Anderson, board member and former congregational leader of the Sisters of St. Francis of Philadelphia.
Mr. Bruder is survived by his wife of 61 years, Kathleen, six children, 21 grandchildren, and one great-grandchild.