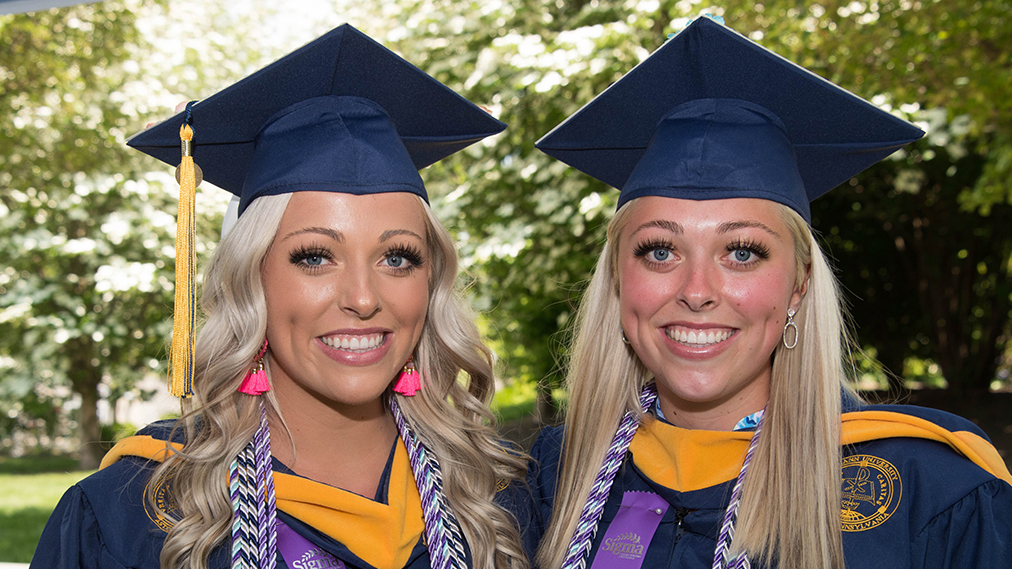 When Halle and Jillian Crane first arrived on campus from the small town of Chatham in Ontario, Canada, they had dreams of becoming nurses. Those dreams came true on May 15 when the twin sisters graduated with Nursing degrees.
As an additional reward for their hard work and discipline, they both have jobs waiting for them at Christiana Hospital where they begin their professional careers on July 12. Halle will begin a surgical residency and Jill a medical residency.
"We had two clinical rotations there and, after we applied, two interviews on Zoom," Halle recalled. The job offers arrived in mid-April.
"We're both drawn to pediatric nursing," Jill explained, "but we just want to gain as much experience as we can at Christiana and see where that takes us."
The most challenging aspects of the academic experience at Neumann, they said, were the high standards for Nursing majors and being away from home. The young women spent every summer here, taking classes to reduce their course loads during the fall and spring semesters.
The uniquely personal campus environment is what they appreciated most. "It's a small campus, and we've been able to build close relationships with people, especially other Nursing majors," observed Halle. "Professors know your name here."
In extracurriculars, the sisters also took similar paths in their college journey. Both played on the women's ice hockey team for three years (Jillian played forward while Halle skated on defense) and on the women's golf team for a year. They were members of the Student Nurses Association and the Social Justice Committee, too.
Both were inducted into honor societies for Nursing and Psychology, their minor course of study.
Jill noted one advantage of being twins who have lived together, both on and off campus, during their years at Neumann. "We've always done everything together, and I don't think we would have had as much success if we weren't there to push each other and help each other focus."