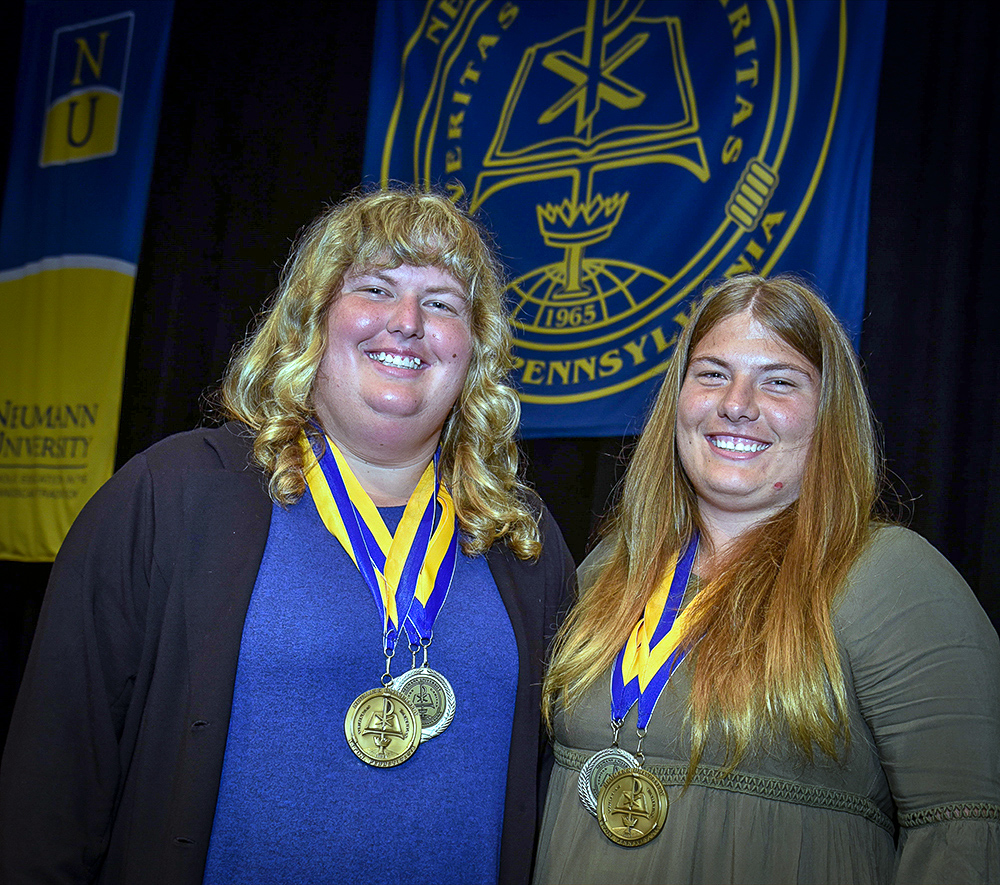 Jacqueline and Victoria Schneider, twins from Holland, PA, shared Neumann University's valedictorian honor, presented at the annual Academic Awards Convocation on April 26. According to the office of Academic Affairs, it was the first time in Neumann's 54-year history that the valedictory medal was awarded to two students.
Jacqueline is a Criminal Justice major, who has played ice hockey and softball throughout her years at the university. She is pursuing career opportunities at the Department of Homeland Security and the Philadelphia Police Department.
An Early Childhood Education major, Victoria also plays softball and competes with her sister to earn playing time at first base. She has applied to several elementary schools in Philadelphia and the surrounding suburbs and hopes to land a position teaching second to fourth grade.
Both young women, who prefer the more informal monikers of Jackie and Vickie, have enjoyed their Neumann experience. "The Education major here is unique because it gives you field experience starting in your freshman year," says Vickie. "I like the small classes, and the professors go out of their way to help you find a job."
Jackie agrees. "You get a personal learning experience here and make a lot of friends," she says. "I also like that we're not too far from home. It allows our parents to come to most of our home games. Sometimes, they even bring our dog Bender."
At the reference to their beloved pet, both women simultaneously display matching charms in the shape of a Husky on necklaces that they wear.
The valedictorians will address their classmates at Neumann's Commencement Exercises on May 11.