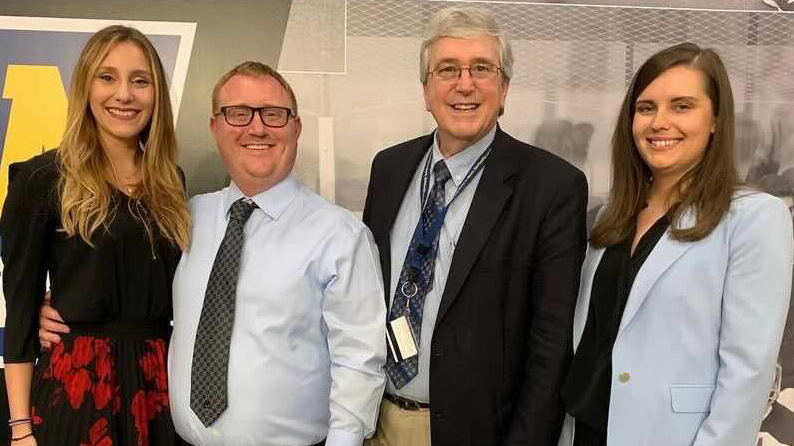 Have you ever wondered who works behind the scenes at those television shows that we have all been binge-watching for the past 18 months? At the ABC Network, Neumann University is well represented by Katherine (Kat) Sullivan '14 and Kiriakoula (Koula) Gregor '14, who are at the controls.
Gregor is a content prep specialist at ABC Network Operations in Los Angeles, California. Sullivan is a content prep specialist for the network in the New York City office. Both Sullivan and Gregor have paid their dues in the industry, specifically at ABC. They started as part-timers, commuting from New Jersey to New York City daily. They covered all shifts, even overnights.
Content prep specialists review television shows prior to airing. They are the people responsible for the graphics that appear on the TV screen during the shows. Their role is one of quality control, which involves verifying schedules and confirming the timing of show segments. Gregor equated the work to putting together a giant puzzle on a daily basis.
"We make sure that before everything goes to air, it's in a pretty package. Our role is to make sure anything that goes out at ABC is really looked over," said Sullivan.
The duo has traversed similar paths from the moment they stepped foot on Neumann's campus. They majored in communications after switching majors, played lacrosse while in college, hosted their own radio show on WNUW, and were from the Garden State. In fact, it was Sullivan who helped Gregor get her first job at the network.
While at NU, Sullivan filmed sporting events with the Neumann Sports Network. After graduation, she was determined to work in the television industry. A summer job at a restaurant at the Jersey Shore connected her with the vice president of broadcast and operations at ABC, which in turn led to a part-time position at the network. Nine months into the job, she was asked to apply for a full-time position as network release supervisor.
Soon after she landed the new job, Sullivan's and Gregor's paths were about to cross once more. Sullivan was asked to find someone for a part-time position at ABC – the same day that Gregor had reached out to her about possible job openings.
Sullivan knew about Gregor's impressive resume. While at NU, she interned at the Wendy Williams Show and Columbia Records. Gregor got the job which was with ABC's media acquisition department and soon after, she was working full-time at the network.
"Kat and I are on the same team now and we get to work together. We have the same titles too," Gregor said.
Gregor always wanted to work on the West Coast, but she stayed in New York for two years.
"I really wanted to move to Los Angeles. I went out there and fell in love with it. It was so exciting walking around the sets and seeing the cast and crew," she explained. "I don't know if I can do anything else now because I'm so used to the adrenalin and excitement of this job."
Gregor and Sullivan credit their college experience with laying the groundwork for so much of their current successes. They are grateful for the support they received from professors like Sean McDonald, Joe Glass, and Dean Al Mueller.
"Keeping the Neumann values close to you and pushing through hard situations is something I learned at Neumann, and it kept me grounded," Sullivan said.